back to marcschoenfeld.com
The 600 Jackson Project
Here's my review of every Chinese Restaurant (except for Star Lunch which scared me and ABC cafe which looked similar to the terrible Sterling Ruby) on the 600 block of Jackson in San Francisco, between Kearny and Grant. It's not a big block, but it's almost entirely made up of Chinese restaurants with the remaining places mostly acupuncture and herb places. Mostly over the years, our department has gone to the powerhouse of the block, Hunan Homes, but I've always wanted to check out the other places, which I have from time to time, but I wanted to do a comprehensive survey over a short period of time. I think there's a total of about 15 places. Unless specified, all meals come with steamed rice and tea. Ratings are from 1 to 5 stars. * means the meal disgusted me. ** means the meal wasn't great, but there was some aspects that made it ok, however I'll never return again. *** means it was average and not disguishable, but still good enough to return if in the mood. **** mean very good and would definitely want to go back a couple times a month. ***** is the ultimate rating; means the meal was a highlight of my day in the food, service and value departments and that this place can make my weekly itinerary. Now, let's eat.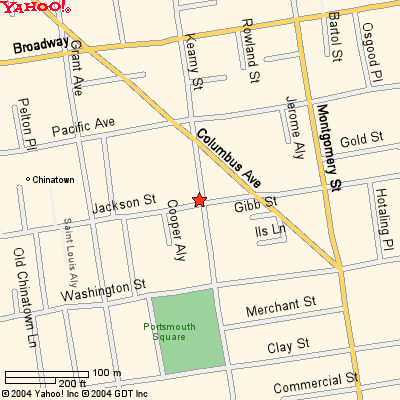 2/8/05 New Lun Ting Cafe, 670 Jackson St. **
Item ordered: Mongolian Beef
Sides included: Mystery Soup, lime jello for dessert.
Cost incl tip: $5.50
% Asian patrons (not including me): 100%

Almost left because they took so long to take my order. Seemed to be doing a big take-out business. Soup arrived and it was sort of nasty, but I had some and started to like it a little, but it still was bad. Mongolian Beef was ok, but white and green onions were not cut up enough into small pieces. Amount of beef and quality was ok, but taste was so so and not very hot as advertised. General ambiance was rundown. Sat at a counter so this place must have been a coffee shop long ago. Would not return again, but lime jello was a nice surprise at the end, earning and extra 1/2 star, otherwise they be close to the lowest rating.
2/11/05 Hunan Homes, 622 Jackson St. ****
Item ordered: Shrimp Fried Rice
Sides included: hot and sour soup, fortune cookie, oranges
Cost incl tip: $7.50
% Asian patrons (not including me): 20% est.

An old standby, this place is the most well-known amongst the businessperson set as an affordable and nice atmosphere Chinese place. Waiters are personable and joke a lot with the regulars. The hot and sour soup is the best I've ever had here. The main dishes are a little disappointing, though, so I don't normally go here too much. It's a good safe place for a group outing. Also, their potstickers are among the best. Also their dinner items are fabulous, but too costly for lunch. Shrimp fried rice was tasty and had good amount of shrimp. They also have the best fortune cookies here, with a hint of vanilla.
2/15/05 and 2/24/05 Chung King, 606 Jackson St. *****
Item ordered: Mongolian Beef
Sides included: hot and sour soup.
Cost incl tip: $5.10
% Asian patrons (not including my table): 50%
Right next to Hunan Homes, I had gone here regularly with a coworker for a period about a year ago, but then there was this nasty smell on the corner of Kearney and Jackson (see top 10 worst SF smells, #2) that would waft in the place and it one day disgusted us so much we sort of banned it. But now, the corner is all nice with a new housing project so I think the smell has been conquered. Anyway, this Mongolian Beef was awesome. Good amount, sauce was great, vegetables were excellent. Nice crispy noodles on the bottom served with steamed rice in a separate cup. Ambiance was clean and pleasant. Fairly empty at primetime, the first visit, but was packed the second. They brought my water as I asked. Some good Chinese music. Fish swimming in a tank. Cheaper than even the cheapest scummy places, so this place is a definite weekly stop.
2/17/05 Sam Lok, 655 Jackson St. **1/2
Item ordered: Hot Pepper Chicken
Sides included: Hot and Sour Soup, egg roll.
Cost incl tip: $6.00
% Asian patrons (not including my table): 100%

This place used to be the place to go for Mongolian Beef, but it started to go downhill a bit and I hadn't been back in several months. The last time I was there, another person with me got Hot Pepper Chicken which I tasted some and enjoyed so I went with it this time. The soup at first was not good. Very thin and had a bad flavor, but it grew on me a bit and I finished it up, though it was still below average. The egg roll was fine. The main course was ok. Had a ton of jalepeno peppers which surprised me since I recalled it being more black peppery the other time I saw this dish. Some onion, and water chestnuts and garlic as well. It was ok, but not very inspiring. I would have rated it 3-stars but my 2 companions getting Kung Pao Chicken and Shrimp Fried rice disliked their's so much that I have to knock it down 1/2. The Kung Pao person complained about the quality of the chicken pieces and actually didn't eat much of it (though it looked ok to me). The Rice person said he felt sort of a bad stomach feeling afterwards and the shrimp in there were tiny. At 2.5 stars, I'd go again to give them a shot to improve with what I used to enjoy there, Mongolian Beef, but I would go myself only so as not to have the guilt I have now causing a bad meal for others.
2/25/05 Kay Cheung Restaurant, 615 Jackson St. ***
Item ordered: Kung Pao Shrimp
Sides included: None
Cost incl tip: $7.00
% Asian patrons (not including me): 100% (out of 80 people)

This place had a small rice plate menu with lunch prices, but it did have Kung Pao Shrimp and as I wasn't too hungry today, a shrimp dish fit the bill well. The place sort of smelled bad and the table was kind of dirty. I was sat at a big round table with two old Chinese guys, one of which had very few teeth. The entree was pretty good, not a whole lot of shrimp, but enough and the quality and taste of the shrimp was excellent. Tasted very fresh. The sauce and onions, water chestnuts, green peppers and peanuts all acted nicely in concert with each other. With no sides and a moderately unapealing atmosphere, this place gets a middle 3-star rating, but probably would be appreciated more by someone more expert in Asian cuisine than I am. Lots of interesting fish swiming in tanks here and the non-rice plate menu looked extensive and good. They had dim sum available as well.
3/01/05 Sterling Ruby Restaurant, 640 Jackson St. **
Item ordered: Mongolian Beef
Sides included: Some chicken-tasting broth with mushrooms
Cost incl tip: $9.75
% Asian patrons (not including me): 100%

I had a pretty bad feeling just from the menu on this place because it seemed like they had a weird collection of food like semi-American items mixed in with Chinese and usually those places are bad. Some of the Chinese items you could get garlic bread as a side. Weird. But for my study, I forced myself to go in. The waitress tried to hard-sell me the Prime Rib special for $12.95 and also some tea that cost extra for more, both of which I declined. The soup was tolerable, but not good. The entree had nice-quality beef and a good portion, but sauce was sort of weird-tasting and not enough green onions. Nice and clean atmosphere, it sort of seemed like the place for middle class Chinatown dwellers. Some fancy lighting and nice music. But the food was not good and the price way too high by about $4. Will not return.
3/02/05 Golden Flower Vietnamese Restaurant, 667 Jackson St. ****
Item ordered: #36, Shrimp and Pork Vermicelli Bowl
Sides included: None
Cost incl tip: $8
% Asian patrons (not including me): 75%

Technically, since not Chinese maybe shouldn't be on the list, but it's food and it's Asian so I'm letting it in as the only non-Chinese cuisine on the block. Enjoyed what I had a lot, except for a huge amount of basil in there that I don't care for, but was able to avoid easily. They didn't bring water like I asked, but the tea served as well. Very flavorful pork and shrimp and fish sauce was more spicy and less fishy than my usual Viet place. Would definately try again to see how they do on their other dishes.
3/10/05 DPD Restaurant, 901 Kearny St. ****
Item ordered: Hot Chili Sauce Chicken
Sides included: None
Cost incl tip: $5
% Asian patrons (not including me): 25% (1 out of 4)

Though technically not on Jackson, it's right at the corner and so I count it since their sign is on Jackson. Place spruced up a bit with new paint job and some cleaning. It's pretty tiny inside, but they didn't have a lot of customers so that wasn't a problem. Upon entering, Average White Band's "Pick up the Pieces" was playing loud on a radio in the kitchen and this was a very good sign. Meal was very good, nice chicken quantity and quality, sauce excellent and good veggies. No sides was ok since the main dish was enough. Tea was cold which was only negative. Also, a strung out heroin chick came in near the end which made me have to keep an eye on her since she was wandering the place and acting weird, but that doesn't lower the rating since it's not the place's fault she's hooked on junk. Waiter didn't seem to expect a tip since I was in the process of giving him one but he went away to give me my $.20 change and I saw him return other people's tip to them. This lowers the cost nicely, though I'd give one next time if I ask for some water or something. Though the item was listed as $4.00 so if the charge was $4.80, that is too much tax so maybe the tip is included.
4/07/05 Pearl City Seafood Restaurant, 641 Jackson St. ****
Item ordered: Dim Sum
Sides included: None
Cost incl tip: $10
% Asian patrons (not including me and friend): 100% (out of about 100 people)

Fairly affordable Dim Sum. We got shrimp har gow, scallop har gow, 2 orders of pork shu mai, some eggplant with shrimp built in, and some spring roll with shrimp in a light coating. I am not a big fan of eggplant, but friend said it was great. Everything else was excellent, except the spring rolls which had cilantro which I don't care for. Food came out fast and ladies spoke enough English to tell me what was in stuff. All items were plump and had fresh taste. Not the most variety of places I've seen, but enough to satisfied my limited needs. Pending other dim sum reviews, I'd definately go again when in the mood for such dining.
5/24/05 Great Eastern Restaurant, 649 Jackson St. ****
Item ordered: Dim Sum
Sides included: None
Cost incl tip: $11
% Asian patrons (not including me and friend): 97%

Authentic Classy Chinese with Dim Sum. No lunch specials here. No tourists. Had dim sum and it was the kind where you order off a menu and mark the items you want and they bring it by, which I usually don't like because I think it indicates it's not a real dim sum place, but in this case, it was fine because we enjoyed everything we had and a lot of people were ordering dim sum as well. We had Mushroom Pork & Shrimp Dumplings, Shrimp Dumplings, Pot Stickers, Eggplant Stuffed w/Shrimp Paste, Rice Noodle Roll Stuffed with BBQ Pork, and Fried Shrimp Roll. Everything was first quality. Nice setting, even sitting in the basement. $11 a person including tea which was $1 a person. Probably get 2 orders of shrimp dumplings and nix the fried shrimp roll next time.
6/14/05 New Woey Loy Goey Restaurant, 699 Jackson St. ***
Item ordered: Kung Pao Chicken
Sides included: Mystery Soup and tea
Cost: $4.60 (no tip, had to go up to register to pay)
% Asian patrons (not including me): 97%
The final place I had to check out. One descends down a short bit of stair into this establishment, but it's not too far so you don't feel like you are eating in some basement. I sat close to the exit so there was a nice breeze and plenty of natural light. Chicken quality was fine, good flavor, nice assortment of vegetables. I left feeling full and satisfied, but it wasn't a place I would go back to over another for Kung Pao. Still, I'd definately go back to try some other dishes and it was super cheap. Meal included the usual mystery soup with a fat-covered bone from some part of a cow floating in it, I presume for flavor. It wasn't bad. Tea was strong and included. No fortune cookie. Place was fairly packed around 12:15 with locals so it must be highly regarded. There's a counter for the old single dishelved males dining alone to sit at, but I chose a table so I could spread out my newspaper.

back to marcschoenfeld.com