The Side Dishes
Below are some other items you may enjoy (all fairly quick downloads):

One of my favorite finds ever on the internet is the music to the Price is Right (click gameshows). The composer is an unsung genius in my opinion. Here's the best song, one of the "New Car" tunes called The Bean Stalker that just excites me every time I hear it. I like to play this song at work when I need to get something done fast. The Big Banana is a close second. Note the hint of Family Feud in this one (same guy did music for that show as well.) These are from master tapes from some vault, so you get to hear the whole song which we never heard when it aired on TV since they never played them long enough. More available from TPIR link above.
My vote for best theme song ever? Streets of San Francisco And this version is without narration so you can fully appreciate the wild 70's brass and psychedelic sounds.
Whenever I feel down, I just listen to the song from Alice. Very inspirational. This girl's got attitude!
Here is my favorite adventure cartoon theme song, Thundar, The Barbarian, the show that answers the question every kid wants to know, "What would happen if a runaway planet hurtled between the Earth and the Moon unleashing cosmic destruction?" Nice alitteration in here as well. Here's the version during the credits with no voice-over.

I always loved the CHiPs music. Here's two versions, the Latin Extended, and Original.

And now for some funky late 70's/early 80's theme songs I enjoy. White Shadow, Fat Albert, and What's Happening! are 3 of my favs. Not exactly funky, but good brass and the hottest superhero ever hands down have earned this extended version of the Wonder Woman theme song a place on this page.
Nothing beats the absolute mayhem of a good 70's gameshow theme song, like this one from Joker's Wild (it is kind of loud so turn the volume down if you are at work, which I assume you are). I think this was the version played at the end with the credits. Marc is absolved from any uncontrolled convulsions that result from listening to this song. Runner-up, is the theme song from Tic-Tac-Dough, featuring the worst game show host ever, Wink Martindale. This one has more of a synth feel to it and can also result in seizures in certain situations. I recall seeing a guy on this show win 30 times in a row and he got a crappy AMC Pacer every five wins; I think the show was fixed.

This excerpt from Mystery of the Mad Minnows (573K) , on one of my old Superman records, is absolutely hillarious as he talks to the dolphins.

My favorite line from the film War Games , which has possibly the best representation of the typical 1980's military General persona.

All-time favorite line from Dukes of Hazzard, Uncle Jesse's rules for being around a still. While on the topic, let me introduce you to one of the worst songs ever, sung by Catherine Bach who played Daisy Duke. It's from this album, which actually is pretty good, except for this horrendous rendition.

Here's a crazy local ad for Mr. Chau's Chinese Fast Food, a small chain in the South Bay, which aired during an Oakland A's game in 2001 on KICU. I wish I could show the video, but the audio will have to do. It is in poor taste, but aparently the actual Mr. Chau that runs the chain is in the ad and approved it, according to this account. I personally have sworn off cheap chinese food because it makes me feel like a lump and I don't recommend eating here or any similar place unless you are really poor and need maximum food for your dollar.
Here is classic Danny Devito at his finest from the 80's film "Romancing the Stone." Clip 1 has him in some Columbian police station after his car and himself are commandeered by a sadistic military general and Devito is a wanted criminal. He is calling his brother to relate the situation. Clip 2 also has him calling his brother later in the movie. The video of these scenes is great and I recommend the entire film if you've never seen it, starring Kathleen Turner and Micheal Douglas.

This is the theme music from my all-time favorite pinball machine, Black Knight 2000, which Peter James and I were the champions of down at the 7-11 during high school.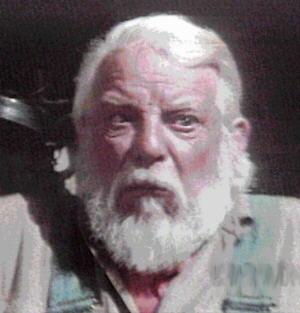 Hear from Duke family patriarch, Uncle Jesse
Back to marcschoenfeld.com home page