Trip taken with Tony Gibson August 20-August 27, 2011.
Day 1: I flew in and Tony drove, but we rented an SUV to make the dirt roads easier to handle and this was a good thing because I would not have wanted to scum up my car, not to mention the pain of the bumps the Impreza would have endured. First night, we had a quick buffet at the Wholeans (not that special), got some booze at TJ in Vegas, stayed at the Econolodge in St. George, UT.
Day 2: In the morning, stocked up at the Smith's, which had the cinnamon rolls we loved from when they had a store in La Jolla. Seriously, best deal ever if you live near one, $3 for 8 with cream cheese icing. Hit up the trail I liked at the Red Cliffs Recretation area from a few years ago I couldn't make past the rope climb before. Then checked out this Silver Reef Road into the national forest nearby high up in the foothills against some impressive mountains and did a little exploring into the areas, but decided to not camp there as it wasn't super-exciting. Then hit the road passing Coral Pink Sand Dunes, and then heading down the dirt road took with the J-Man last year past the awesome Bull Valley Gorge and camped at the very nice Kodachrome Basin State Park. Long day and the light was fading by the time we finished dinner and camp set up, but still took a quick dusk hike that was nice wrap up of the day.





Day 3: Did a couple hikes in the state park which were nice. Then headed down Cottonwood Road which I had taken in the reverse direction last year. Stopped off at the top of a hill, I may have camped it with Jeremy which had awesome views and no flies this year. Had our second day of pastami sandwich lunch setting up the chair in a prime location under a tree. Continued on road to check out the Grovenor's Arch which has nice cement path most likely form excess funds that had to be spent or lost by the BLM guys. Then further down walked the Canyon Narrows, returning to car via the road. Real hot. Then did a bit more exploring off the road checking out the Paria river some, but we were a bit worn down for any more major hiking today. Finished off the dirt road hitting the pavement and headed to the BLM station. It was closed, but filled up our water supply and camped at the White House Rock campground nearby, which I had stayed at a few years back. Only one other camper in the parking lot, none in campground. Total silence. Very nice.
Day 4: Nice morning at the White House Rock campground before heading to the ranger station for the Wave lottery, which we didn't not win. Still, wasn't too disspointed since other things to do. Headed down House Rock Valley Road which connects 89 in Utah to 89A in Arizona through about a 30 mile dirt road through real nice scenary that changes. But the beginning is still hot canyon. First hike we just went out on a trail into Buckskin Gulch and explored and climbed up the slick rock which is easy to get a grip to scamper up seemingly impossible heights. Very interesting rock formations here that is reminicent to the nearby Wave. It was really hot, such that my water was hot to drink. Not a soul around except for us. You can tell few people come here because the rock structures are somewhat fragile and really would be messed up if this place was more accessible. Found what appeared to be a big cow femur bone under a tree (being held by Tony), the rest of the beast long picked away by the scavengers. We were out in the sun for about 3 hours, and I ran out of water near end back to the car and we had to set up the chairs and down some cold lemonade and take a rest. Next hike was good too, and went by the Wave and the Coyote Buttes, but we didn't attempt to track it down, and instead just went into some nice narrow canyons where we had our second meal of pepperjack cheese on triscuits. Then back to car and down the road to the Stateline campground, which was exceptionally appointed and free and only one other person there. Highly recommended. I seem to recall a very nice meal at this campsite as well of burgers with giant peppers.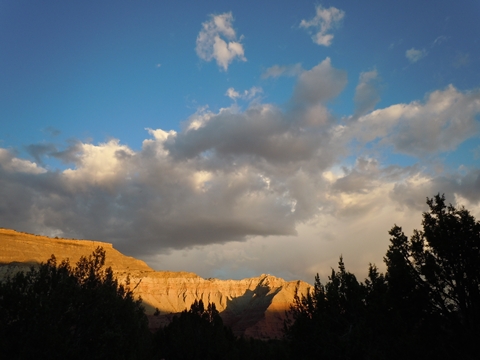 Day Fading at Kodachrome Basin State Park, UT.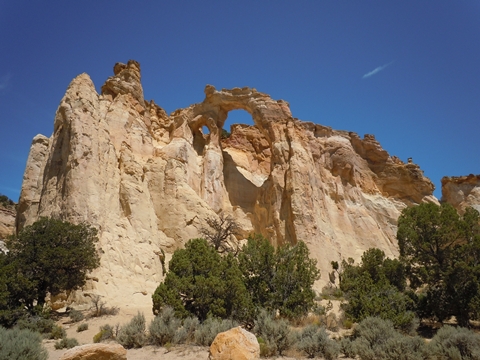 Grovenor's Arch off Cottonwood Road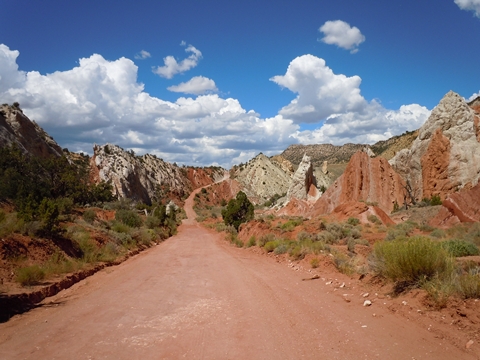 Walking back along Cottonwood road to car after canyon hike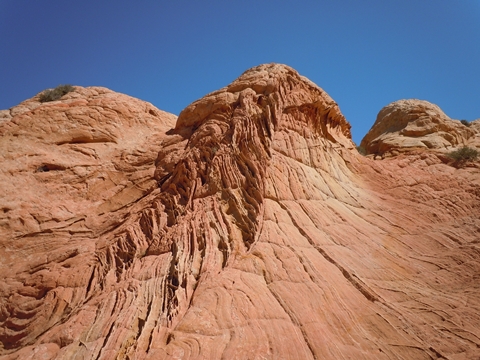 Nice Rock Formation in Buckskin Gulch off House Rock Valley Road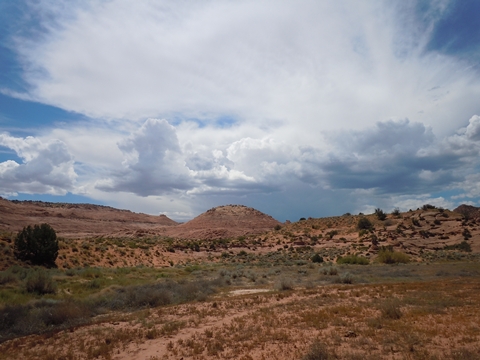 Harsh scrublands of the western edge of the GSENM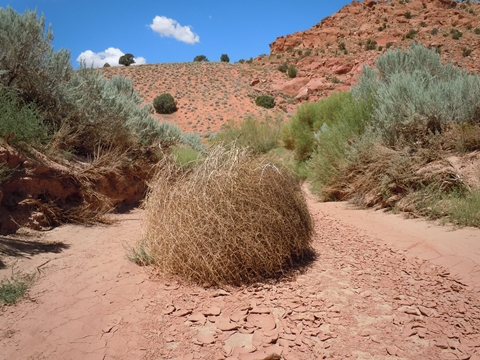 Impressive tumbleweed in a wash
Day 5: Drove out of camp down the remainder of House Rock Valley Road and headed to the GC. First, took an ill-fated detour down a dirt forest road in hopes of a unique canyon view, but there was smoke and the road got really bad such that we didn't think the car could make it back up. So wasted a good deal of time, but did result in stumbling upon an awesome fire lookout tower which I went up to check out the view and chat with the dude up there. Bit scary to climb that thing. Then finally headed into the park, set up camp, check out the main views and then drove to the super-view points. The North Rim is so low-key versus South with very few tours and almost no giant buses and the foolishness level minimal. Plus, it's cooler due to higher elevation. Got some real nice shots as we raced to get the sunset views. Even the Bar-S hot dogs we were forced to buy since the general store had nothing else where enjoyable after a long day.
Day 6: We woke up pretty early to get started on our big hike of the GC portion of the trip, a 10 mile descent to and return from Roaring Springs. The heat wasn't too bad given the early start and shade on much of the trail, but still was brutal at points on the way back up. Real nice hike. Only a few annoying donkey trains. Cool butterfly closeup at a resting point. Returned back to camp for beers and dinner and relaxed.
Day 7: Final day before heading to Vegas, the only thing on our agenda was to drive back to the overlook section 20 miles down a windy road from the main North Rim area to see it during the day. Was outstanding to be able to get all the scenary in with hardly any people. Saw a reall cool aerial demonstration with some birds diving and turning on a dime, the likes of which I have never seen. Reminded me of Top Gun. Nice finish to the nature part of the trip before the long drive. Nature officially ended at our Wendy's stop in Hurricane. Got to the Whoreleans right at check in time and enjoyed the pool a bit, returned the rental car, had a buffet, and gambled. To me, nothing beats the combination of enjoying several days in the wilderness of the Southwest with a finishing day in the thouroughly unnatural Vega$. You appreciate and despise the town at the same time. After emerging from the peaceful natural solitude where you have recharged your batteries, the depravity and sadness of the gambling crowd is somewhat depressing, yet you still enjoy the comfort of a chef slicing a giant Prime Rib to slop a piece on your plate and waitresses bringing you G&Ts with just a nod as you mindlessly add up cards playing blackjack.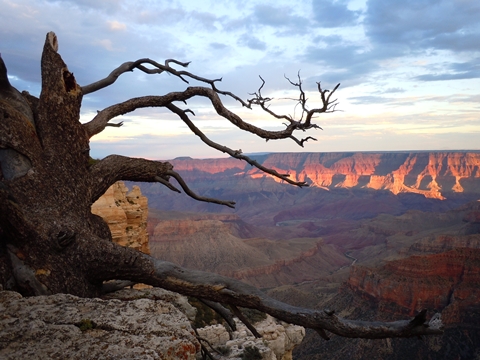 One of my favorite shots at the North Rim of the GC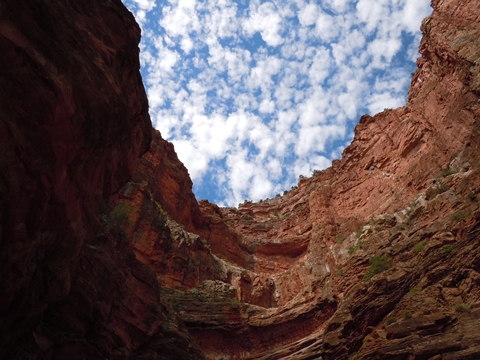 rounding a bend on the trail, looking up the terraced cliffs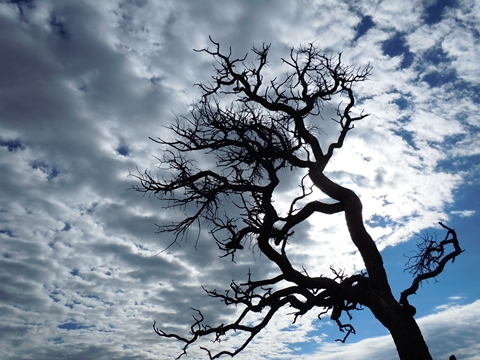 a haunting tree against the clouds