Back to MarcSchoenfeld.com
Trip taken August 5-9 2008, leaving from Mammoth Lakes Cold Water Creek campground and hiking one way to the end of Rock Creek Road off the Tom's Place exit on 395. See here for the start and end (disregard the car route). We had a car at each terminus. We also spent two days prior to the main event doing a couple hikes in Yosemite.
Yosemite Day 1: One-way to North Dome continuing down to the Valley via Yosemite Falls trail
We start off the day leaving the Motel 6 in Merced after a nice big greasy meal at Carrow's. Coming in the Yosemite entrance through this route was a new one for me and was a nice change. This hike would be about 12 miles one way descending a several thousand feet and would turn out to be quite painful and seemingly endless. We parked one car down in the valley and then drove for a while up towards Toulumne Meadows to start out. At an early part of the hike, I saw a little sign with a 1/2 mile detour to some arch that I couldn't pass up (as usual) and here I am. Here is a nice look through the arch at 1/2 dome. Up on the arch, in the other direction, was this cool-looking rock formation with a nice view in the background. The draw of North Dome is the awesome view of 1/2 dome. Here I performed a nice self-timer of Tony and me with the famous edifice behind. And here we are in our individual glamour shots: Tony and Marc. This ended the picture taking portion of the day because I already had a ton of photos from another trip (last paragraph) of Yosemite Falls which we continued on down. It was unfortunate that the falls were pretty much dry at this time because I recalled they were very impressive and that the hike up and down the falls was the hardest day hike I had ever done. So we suffered serious pain for a long time and though the view was spectacular, the fact that the falls were dry made this portion not our favorite and I recall yelling several times in anger when the trail seemed like it was going to end, but never did. We did finally get to the car and then drove to the campsite just in time to have a little bit of light to cook up some Costco carne asada for dinner and I think I might have had some Rum and some of Tony's excellent homemade beer.
Yosemite Day 2: Gaylor Lakes hike to Great Sierra Mine
The previous day's hike was a little more strenuous than we had anticipated and so we decided to go a little easier today. There were a lot of option on the way toward Tioga Pass and we sort of randomly choose this one from the map. The start of this was close to the entrance station and was fairly steep at first, but not for too long. Then we descended to the lake and continued on through some mega rock to this old mine area. From the mine area, here is a nice look at the lakes. Here's a good one. A nice peak that could be done if so desired. Same spot, but to the right is a nice view of the lake more into the horizon. On the way back, 3 nice low shots of lakes demonstrating the crystal clear water. The ruins of the mine were ok, but I guess not that exciting since I find no photos of them. We had our sandwiches in the bright sun protected from the wind and it was tolerable, but barely. This was some serious elevation we were at over 11k feet. Here I am seen with some snow still present. I can't imagine how the people lived out here doing this tough work. For us, it was a nice little 4 mile excursion.
Getting back to the car, we drove on to Mammoth Lakes in our separate cars. On the way, we got scared because it looked like a big fire was burning there. And there was, but luckily it was in the forest away from where our hike would be leaving from. We got our necessary papers from the Ranger and I rented a bear canister and then we set off to drop my car off at the finishing point down by Mosquito Flat off the Tom's Place exit on 395. I got in Tony's car and back we went to the campground in Mammoth were we had a nice spot along a creek which made up for all the RV sadness. We had another nice carne asada with grilled peppers and onions and cheese on tortilla and some rum and coke for dinner.
Backpacking Day 1
The fire nearby unfortunately made the air a tad smoky obscuring the views for the initial part of the day and didn't smell too good. But this wasn't a major issue. I didn't take any photos so all of these are from Tony. In addition to the smoke, it was sort of overcast and seemed like possible rain all day. Here's the first look at Duck Lake. Another view with a great rock in the background as well as another lake that looks like it might be connected, but is not. Another angle looking at the lake and shows the trail clinging to the side of the mountain. We had to round a giant mountain to get to our first night of camping at Purple Lake. Here we see a long way north from the John Muir Trail Junction. We finally made it to the lake and the clouds that threatened rain left our area. Nice late day looks at the lake. Another direction. Lake in shadows. Nice rock at sunset.
Backpacking Day 2
Much of today consisted of a descent into the "Tule Hole" where we were to end at the Lake of the Lone Indian. On the way, passed the picturesque Virginia Lake. Another look and one of my favorites. Nice look at the Silver Divide. And another look down the hole. The lake we were staying at was off the main trail a bit so there weren't many people, but at the same time, there weren't many good spots to camp. We had to navigate along the shore but found a spot on the other side of the lake and here's a look from the site. Another look at the lake closer to the shore. A nice low-light view towards the west at sunset from camp. An even lower-light shot of the same.
Backpacking Day 3
We left the lake early and had to do some tough maneuvers to get back onto the main trail because we decided to go back a different way for variety. Saw a giant jack rabbit. Hit Silver Pass fairly early since it was not too far. It was chilly early in the morning even with the sun out. Here's a view in another direction. And another showing a nice lake. Someone else up there took our photo where you can see the nasty sweat evident on me. And bear in mind it's early still. Descending the pass, a nice look. At the first bottom of the pass, a splendid view where you can also see the dropoff that led to another major elevation drop. That it for the photos from this day. The remainder is sort of a blur, but I recall my feet killed and we were walking in a dry sand area with a lot of vegetation and the flies were attacking us for a long time as I complained and prayed to be able to stop. Finally, we got to a campsite and even the enjoyment of washing in the creek was lessened by the flies that were out for blood, though they would just land on you and do nothing. But it still itched and bothered us a real lot. We sprayed a lot of repellant on us to no avail, but we had some success with smoking them out with fire. I did enjoy a brief time of relaxation in the hammock and had a good deal of the rum supply that evening as it was a trying time.
Backpacking Day 4
Today was going to be nice because we had a pretty short hike ahead of us and we'd be going to an obscure lake that turned out not to have a sign for it and practically had the whole lake to ourselves. The day started out great as I went off the trail at "Fly Camp" to take a dump and in my search for my hole digging came across a makeshift toilet seat that someone had stashed up there for the season. A wooden box with a Bemis toilet seat on it. I dug my hole and moved the toilet seat-box over it and did the deed. The utter luxury I felt is a testament to how lacking in the niceties of civilized living we were after 6 days of camping. I regret not going back to the camp to grab my camera, but in my minds eye, I will never forget the elation I experienced stumbling about this makeshift commode. On we went and had a little route-finding trouble as the trail to the lake, name 4th Recess Lake, was unmarked. But Tony's topo map and our tracking skills lead us to the lake without much trouble. We set up camp and I had the ultimate hammock set up with nice view and shade, which was good because the sun was intense. Having time to just enjoy the scenery and the calm was so nice. A closer look at the clear water which was very cold, though I did go in up to my stomach to clean the lower body but even I could not take a full immersion at this snow-fed lake. There was a lot of logs jammed up at the outlet of the lake. The whole place was surrounded by immense walls of mountain. A picture of the camp. By the lake outlet, there were a lot of animal tracks which put us on alert. A look towards the outlet at dusk. The lake in shadow with the walls of the mountain lit up. Last bit of sun hitting the rocks. We had out special "treat" of backpacker chocolate cheesecake that was terrible. But the calories were needed.
Backpacking Day 5
By now I was ready to sleep in a bed. I had not slept well at all as I just could never get comfortable. Much of our talk during the hike was the pizza we were going to order as we drove back to Mammoth Lakes. As such, we got up at 6:00 this morning because we wanted to get the pizza ASAP and then get on to our respective beds. Here I am in the morning, a photo that was taken to demonstrate the dirt on my shorts versus the removable pant legs which I had on since it was cold in the morning. Yes, those should be the same color. We hiked for a while in the shadows of the morning but soon emerged into the sun and headed for the Mono Pass and the utter desolation surrounding it. Tony and Marc in surrounding such that I wouldn't have been surprised to see a group Jawas roaming this land. A nice little, very blue, lake amidst the dryness. Here's the top. Tony sitting on a rock. The snow was very deep in places up here. Here I am with some good salt action. Timer shot of us by the snow. We didn't have far down to go and the desolation quickly turned to that of an oasis of life the view was spectacular. We trudged down the trail and found a bunch of guys fixing up the trail and then near the bottom, masses of fools with fishing poles and coolers of beer that told us we were close to the end. Got back to my car where I had a old bed sheet to use to keep the scum of us off my car seats as best I could and we ordered a medium pizza on our way to Mammoth to drop Tony off at his car. We scarfed down the thing and two salads in no time and I headed back to SF by way of Yosemite which took forever but was nice and scenic and the stomach full of pizza satisfied me so I didn't mind.
Epilogue
Upon getting back to SF, it was Saturday night and madness in North Beach with nowhere to park and with my feet killing, I ended up having to park 8 blocks away. Since I was by there, stopped by Trader Joe's and picked up some provisions for home and I think I must have looked pretty bad because I got some stares. The bed felt very nice. It was a good trip. My feet killed, probably because I had too much unnecessary pack weight, but I have to say I can't give up the hammock because it was nice to have. Great trip with a little more pain than optimal, but I'd rather err on the side of more pain than less. Good water action with the water freezing, but still ok for a dip to clean and cool off in most spots. Great after-hike eating, an area which in the past we have had letdowns. The last night of camping with the relaxing was a nice way to dispatch with the less pleasant night where we camped by the flies and made up for the pain my back experienced by sleeping in a tent for 6 days. Just the right amount of rum. In all, a fine week-long outing to get rejuvenated from the soul-depleting sadness of work.
Back to MarcSchoenfeld.com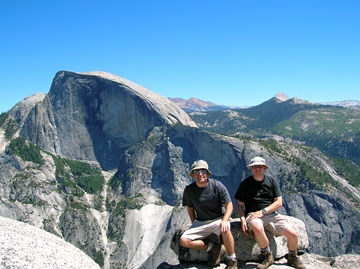 View of 1/2 Dome from North Dome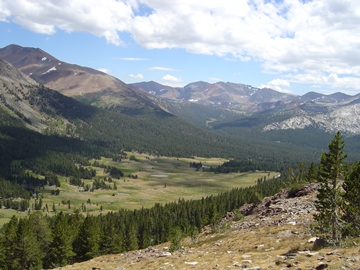 Look down at Tioga Pass from Gaylor Lakes Trail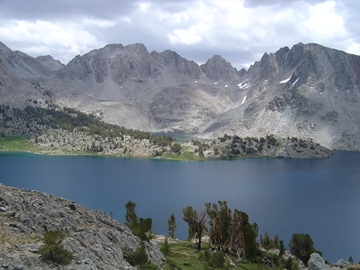 Duck Lake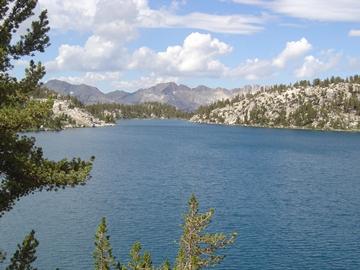 Virgina Lakes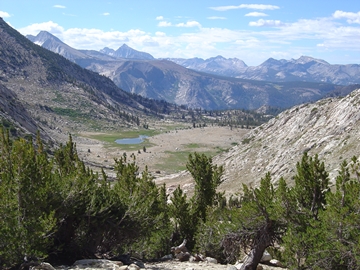 Look down from Silver Pass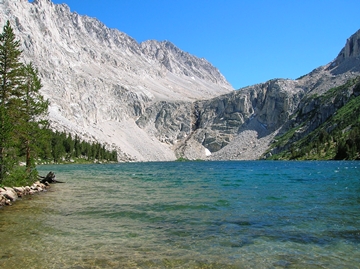 Fourth Recess Lake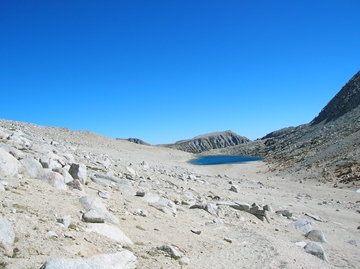 near Mono Pass