back to marcschoenfeld.com
Trip taken August 12-16, 2009 starting from the end of Mineral King road in Sequoia National Park. First trip where we spent 2 night in one spot which made for a bit more of a relaxed trip, though still tough hiking.
Day 1: Left early in the morning from sad Visalia. Road to get to trailhead was painful to drive. Very windy for a long way. Zoom in on map to see. We went over some minor gap but it wasn't too bad. Nice weather, though hot at the start. Camped in a shady spot by a creek. Not much else to recall from this day.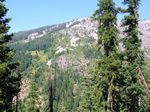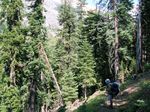 Day 2: Real tough day. Went over a gigantic Black Rock pass and then way down to the camp by Little Five Lakes. Even the back country ranger remarked of the painfulness of the elevation change. But the nice thing was we knew we had 2 days to stay here and next day would be a relaxing one. Storm trouble brewing as we climbed the painful, never-ending gravelly slope, but fortunately, we were spared any real trouble. In picture MK15, you can see 3 tiered lakes; we would stay at the top one 2 days later.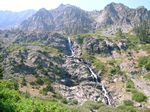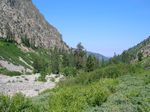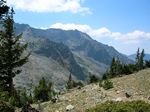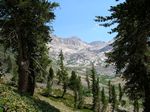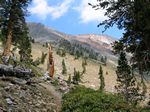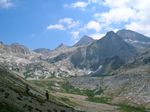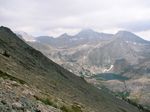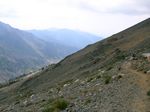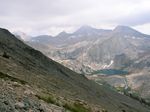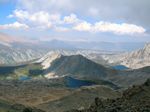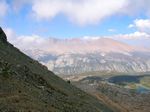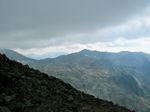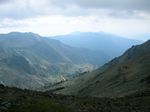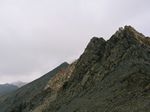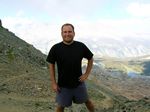 Day 3: Remained in same spot by real nice lake. Ranger said she hadn't seen any people in a week and we were only ones around. Relaxed by the lake reading, took a dip in the lake and laid on a rock, drank some rum, went on a little exploring walk, checked out mega star action at night. Really good star-viewing, but it was super-cold. Had to use be in my sleeping bag for viewing. Mega storm again threatened, but the mountains protected us, as seen in last photo.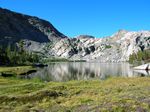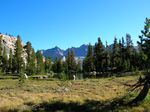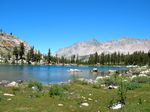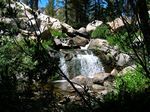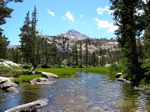 Day 4: Moderate painful hike today, consisting of big down, flat, then big up to staging area for the pass on the final day. MK 40 shows the Saw Tooth Pass we'd be going over the last day, though it's too the right of it so no rock climbing. Camped by Columbine lake in some sheltered rocks. Great views all directions.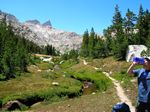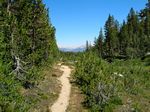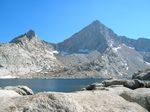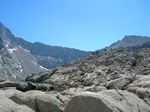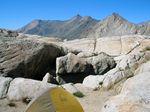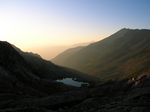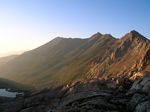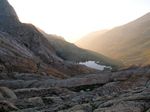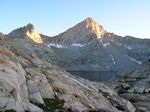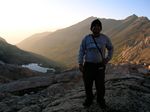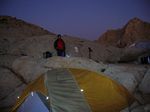 Day 5: Final hike up the pass. It wasn't a long way, but really steep to get up there. We started early because we were excited to have Wendy's. Going down, we got seriously off course and had to spend an hour of the worst hiking going straight down the face of a mountain which hurt my feet for the next 3 days. Last 3 shots show the beginning of the moment we knew we were off course and couldn't go back because it was too steep up. Last picture shows point where we got back on the trail looking up the pain we came down, and still had about an hour to the car from this point. MK64 is a nice shot of the painful trail we had to climb up day 2. Wendy's in Visalia was the worst ever. Waited like 30 minutes for food as the place was totally messed up and crowded with fools and they kept getting my order wrong.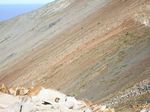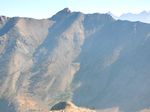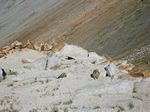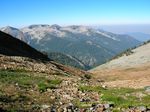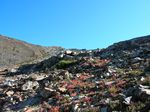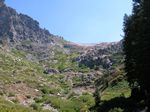 back to marcschoenfeld.com