back to marcschoenfeld.com
July 29-August 4, Started down from South Lake which is a 30 minute drive from Bishop off US 395, down a road ending in the heart of the Sierras. Since, I have delayed in posting these pictures for a while, my commentary will be limited to what I can recall was going on. We camped 6 nights, so it was a leisurely pace which was fine because it enabled for some good relaxing and reading, but I'd speed it up a day if I did it again. My feet killed even with the easy pace because I had bad boot insoles I foolishly did not replace until afterwards. We spent the night in our favorite dive motel The El Rancho before heading off.
first lake we saw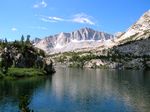 some other lake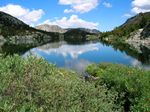 | | |
| --- | --- |
| first pass of the trip, Bishop, was the highest, but we started fairly high so this wasn't too big a deal. Still, the high altitude on the first day wore us out pretty good. | |
Tony composing himself upon reaching the top.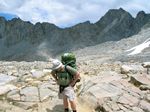 ominous clouds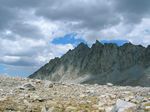 | | |
| --- | --- |
| I allotted myself 50ml of bad vodka per day and enjoyed some here while listening to some music. | |
heading down the other side of the pass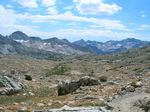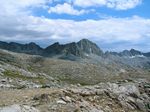 sun sets as we camp by a rocky, high lake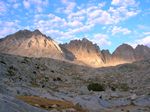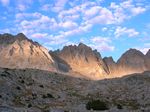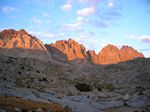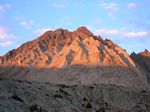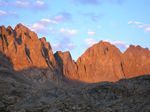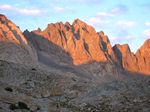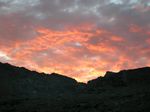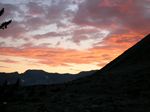 Day 2: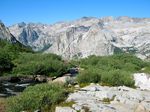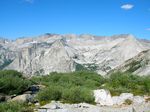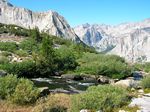 I'm in here if you can find me =>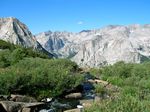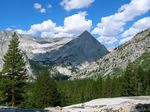 we really liked this rock=>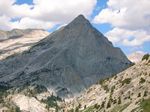 nice flat waterfall: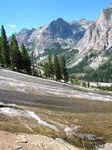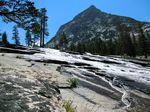 Day 3: Hike up over another pass with storm hut seen in first pic, then short hike down to a nice lake. Despite the snow visible in some of the photos, the sun was incredibly intense. Tony took cover in the tent and I found a perfect rock to escape the rays. When night fell, though, the temp shot down fast.
Day 4: I didn't take any photos so these are all from Tony as we hike down into Evolution Valley. It was all down and it started to drizzle but fortunately, didn't rain much. We later found out it poured back on the other side of the divide that day.
Day 5: Short hiking day but camped in a nice spot near a river and relaxed.
Looking back at previous night's camp.

Tony ponders our next move.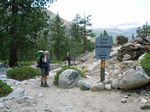 We decide to chill at this shady camp right by a river.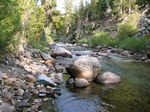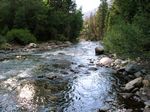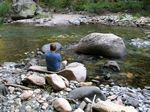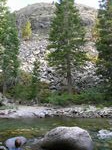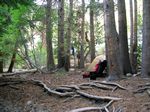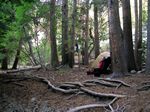 Nasties in a tree.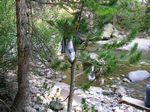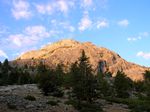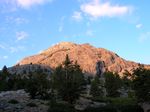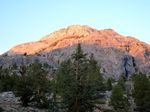 Tony ventures up the hill to take a dump.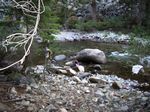 Day 6: This was the most painful day because we were going up all day, the trail was not well-maintained (possibly due to being outside of National Park land), it was late in the trip and my feet were killing, and there were bugs that went nuts over me even will a lot of replellant. Still, some great images from along the trail of an awesome creek and the end of the day was nice, though as seen in the photos, finding a good spot for camp was tough given the extremely rocky terrain.
Reaching camp at Golden Trout Lake, I went straight into my "lounging" clothes for the last 50 ml of ulcer-inducing Trader Joe's Vodka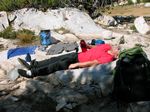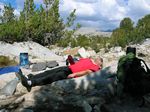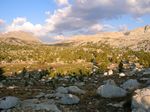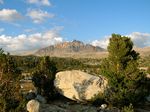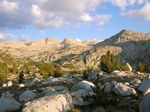 Looked like some serious storm going on, but luckily never came to us.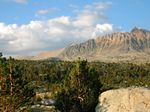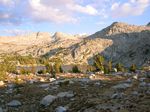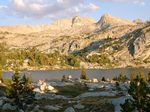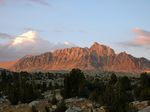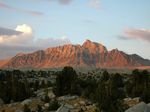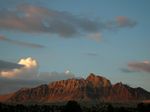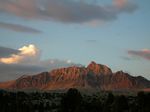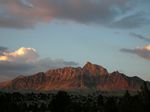 Day 7: A short hike up to Piaute Pass, followed by a 3 hour downhill that would not end, but I was thankful for not going up. At the top of the pass, we talked with this guy that runs up and down often and it was pretty crazy because you really need to be surefooted, not to mention in excellent shape to take this jaunt on.
camp in the morning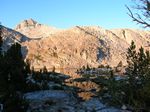 a look at the trail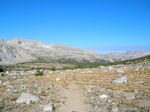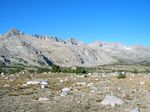 look back at a lake and the rocky trail just before Piaute Pass.


driving down the road to Bishop for our giant greasy meal. Fortunately, I was not so desperate I craved a worm sandwich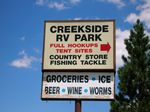 In all, it was an excellent trip and it was great to get out of the city and away from work for a week. We met so many people on 2 week or longer trips that it's really amazing how one can survive with relative comfort out in the wilderness. For my drive home, I took the Sonora Pass on highway 108 which is an excellent drive and though not as jaw-dropping as Tioga, it is much less traveled and has it's on remote splendor. I also wasn't in the mood to pay the $20 entry fee to Yosemite while being stuck behind giant RVs again.
back to marcschoenfeld.com