Trip Summary: June 3-9, driving from San Francisco with 1 night layover in casino hotel, 1 night dispersed camping, 1 night BLM campground, 2 nights dispersed camping, 1 night BLM campground, then driving home. Consumed 16 beers (12 Natural Ice and 6 Trader Joe's "Simpler Times"; lost two beers to cooler ice mishap), 3/4 liter bottle of rum and a little bit of bad vodka. No cooking. Meals consisted of canned tuna, canned chicken, lot of nuts, Cheez-Its, cookies, Cliff Bars, OJ, Breakfast bars, etc. Not much hiking, but some great scenary and relaxing.
June 3: Basically just drove all day. from SF to Mesquite, NV where I stayed at the surprisingly pleasant Virgin River Hotel and Casino for $30 (not counting $65 gambling loss). Had a nice big steak.
June 4: Real trip begins. Here's the route of the trip. I drove up 15 from Mesquite and took the road through Hurricane, then went down route 59/389 to this road where you see "Cave Beds" which went through the Coral Pink Sand Dunes State Park. Bit of a dirt road to go through and it was a tad scary because, this being a dune region, there were places where the sand was quite deep for a passenger car, but I made it through to the pavement. Speaking of my car, it was in a bit of trouble from being hit by this guy while being parked. Just days before my trip, I got to my car with the bumper laying in the street. But some duct tape and a body shop guy drilling some bolts in held it together. Nice place to drive through. Got a few good dune views in. Then headed along the road to connect to 89 and rolled into Kanab to check in with the local BLM offices. Found out my original plans were not going to work due to recent floods that messed up this one road for all but the hardiest 4x4s. But they advised me of a nice road that had good scenary to check out and would also afford some dispersed camping opportunites. It also passed the old Gunsmoke set, which was on some dude's property, but you could get good views still. Set up camp along this Johnson Canyon Road around 3:30. Nice desert flower. A look at the tent in one direction and in the other with me behind. Went exploring a bit for about an hour, then back to camp for my tuna sandwich and some beers, then a little walk down the road to check out the scenary. Read some magazines and just chilled.
June 5: Coyote noise were scary at the break of dawn, like sirens. Got up pretty early and had my sad breakfast of 2 nutri-grain bars and some OJ. Got to the Paria Contact Station to try to win one of the 10 permits for hiking into The Wave. Unfortunately, this attraction is too well-known by foreigners because they made up about 70% of the people vying for spots. The Germans really like this stuff. Blame the weak dollar. I did like the little bingo spinner thing they used to run the permit lottery, though. In any regard, there was plenty of stuff to do around so I wasn't too dissapointed. I decided to set up camp at the White House Campground which was located in some nice scenery and was right next to the trailhead for some good day hiking as well. The hiking went along through a dry riverbed of the Paria River for a couple miles and then continued through more narrow canyons. It was a long hike, but totally flat so even though it was 15 miles, it wasn't too bad. I was fascinated by the way the dried mud curled up. A look down the riverbed portion of the walk. A look as the narrow part begins. Nice wall action in the other direction. Getting tighter! I just kept going hoping it wouldn't have too much water since I didn't have my water shoes and wasn't in the mood for wading through mud. Eventually, I sank into some serious mud and sprained my foot a bit as I tried to pull it out too fast. I wanted to continue as I was close to the Confluence, but I just decided it wasn't worth it and turned back. It was a satisfying hike and though it was flat, I was pretty exhausted upon returning camp. Still had some energy to document the nice surroundings, though, and scamper around on the slickrock just beyond my site. Nice end of day view with full moon. The moon was so bright on this trip, I once thought a car was shining it's headlights into my tent. Did my usual relaxing, drinking of 3 beers, some rum, reading for the rest of the day.
June 6: Tried for a second day for the Wave lottery (you get 2 chances if you tried the prior day) and missed again as there were so many people. Turned out it was for the best since it would have broken up my camping which I would be doing. Did a popular small hike just off the road a few miles from the ranger station to The Toadstools. Pretty cool area with a nice background. Look at the main formation from the back. Nice contrasts of flatness and colors. Big Dome. Wide view of the secondary formation. Close up of the prior with some German tourists that also lost out in the lottery in the back. Look up at a toadstool against a giant rock wall. Interesting canyon area that reminded me of Star Wars a bit. After this short outing, I drove about 7 miles to Big Water to get ice for my depleting cooler supply. Then I drove a bit back west through this small town to a BLM dirt road to check out Desolation Pocket. Unfortunately, there was a steep angle on the road that made me scared I was going to tip my car, so I had to walk about 1.5 miles more than I wanted to each way to get to the formation, but it was a pleasant walk and nice weather. First look at the area. Climbed up a bit sand dune and got some shots in different directions. Saw an antelope of something jamming off around here. Nice quiet place. Wish I had been able to bring my car in since there was another section, but I didn't feel like walking the extra distance as I wanted to get to my camping spot. Headed back to the main road west past the ranger station and turned down the road to this old movie set where a lot of westerns were filmed and where at the very end of the dirt road was a townsite of an old mining town and was where I would be camping, Paria Canyon. Road was a bit scary; note big dropoff ahead. Scenary was excellent driving down. I would be camping where you see all the green way down at the bottom along the Paria River, this portion with water unlike the part I was near the prior day. Nice look up at a formation after serious descent in the car. There was a bit of a delay as I and this minivan debated if we could negotiate this partially washed out portion of the road. I watched him go and he almost tipped over and that made me nearly throw in the towel, but on closer inspection, I saw a better way to maneuver it and so did so with only minor heart palpitations. I was still scared about making up the big incline on the way back, but I would deal with this when the time came. Set up camp near the river. A few people would come by for little day hike excursions while I was there, but not many. If you had a good 4x4, there were more exciting roads to go down and passenger cars were mostly too scared, so that gave the place pretty much to myself. Nice late day river view. Self-timer shot; may have been late in the beer-cycle at this point based on the crazy angle. Same direction, without me, but nice shadow action. Light almost gone, the river shines. Camp with lit up mountain in the back. Sun disappearing. Nice relaxing view from my chair. Weird self-timer shot of me with headphones, taking a break from reading for a bit; I think the rum ($10 for a liter at Trader Joe's!) drinking may have been in progress at this time. Dazzlingly lit up cliffs. Look in the other direction where the light is just barely on the rock. Last look at the full camp setup in the waning sun-lit cliffs. Nice relaxing time after set up to enjoy the scenery, drink, read, listen to music and just be calm. It was really windy and the bugs were a bit annoying, but couldn't complain.
June 7: Woke up and noticed a nice flower outside the door. First excursion of the day was to check out the old Paria townsite which I wasn't sure how to get to but figured it was accross the river somehow. Here's a nicely intact frame of a structure. Nice view of the desolation with clouds. More desolation with some cool rock colors. After checking out the place, went back to the camp and had a little lunch and then headed out on the big hike of the day to basically just walk till I felt like coming back along the river the other direction. Fortuantely, the river was not flowing much, so it wasn't hard to cross without getting wet. Nice weeds with clouds and good rock. More rock in different direction. Me looking scummy in front of giant cliff with greens; it's noticeable that I had less activity to work off my beer-drinking on this trip than in past trips. It was a fairly uneventful hike, but was flat and enjoyable to just be out in the middle of nowhere. Returned to read and drink and had my usual chicken sandwich dinner. Me looking somewhat less scummy after coming back from the hike and relaxing after dinner in the twilight.
June 8: Woke up and cleaned up the camp and packed up. Was a little scared about getting back up this big dirt hill. Car slipped a bit, but wasn't too much trouble. Today was a big driving tour day and wasn't sure where I'd be stopping. But I wanted to check out the southern Glen Canyon / Lake Powell area and the dam as well as the Colorado River before it hits the Grand Canyon. Here's a nice look at the first access area to the lake. I like the rock terrain. A little further down was an elevated overlook. You can see how the dam flooded the area. Nice rocks jutting out. Cool lizzard on way to the Colorado River overlook. Outstanding overlook view here. I saw a tent way the hell down on the rock (but not the very bottom) that I needed binoculars to see. Don't know how the person got there. This is the shot that was on the AAA Utah map I had. A more detailed look right and left. Driving further, there was a nice overlook of the plateau where you can make out the fissure. Good flatness contrasting with giant canyon action. Crossing the canyon, drove to this nice overlook just before the Kaibab National forest started for a nice look of grassy plains and interesting rock. This is a view of the general area of the road (of in the distance) I could have taken (painful dirt) that would have connected me across to the Grand Staircase Escalated region I was in previously. The Kaibab forest was really nice to drive through along 89, but didn't really take any pictures. It's the gateway to the North Rim of the Grand Cayon at the town of Jacob Lake. Good area to go when it's really hot since it's high up, but it was a bit cool, so decided not to camp in the area as I had possibly thought I might. Continued on to AZ-389 passing through some Indian Reservation that had a real sad National Monumnet that I also nixed as a camping site, Pipe Springs or something. But it did have a cheap gas station with no taxes due to being on the reservation. And their ATM had a surcharge of $2.10 which was odd. I had to call my bank up to get the refund (they didn't reimburse me as they are supposed to) because I think the odd amount confused their computers. Continued on where I turned off the road at Colorado City and into Hildale to find a nice spot to relax a bit from the driving and have a beer. Found this sweet park in Hildale just randomly and seeing women dressed out of central casting for Big Love , I realized I might be in a polygamist sect town, which was the case I found out upon hitting the net when returning home. But I stayed for a bit anyway to enjoy the view and read a bit at the picnic tables. I was impressed with this park and it's too bad it has a somewhat sinister location in a town with compound-ish dwellings. It seemed they had just built it and there was still bulldozing going on which lead me not to stay too long. All the kids looked very similar and people were looking at me a bit odd, which was another factor in not staying too long. Consulted my camping guide book and checked out a few spots near Hurricane, but they were sad. Then noticed an interesting spot on the excellent newly published Southern Utah AAA map not far off from I-15, a BLM campground called the Red Cliffs Recreation Site. I knew when I had to go through this to get to the place, this it was going to be good. I found it to be just what I was looking for. Here's my camp setup. I could see on the weekend, this place would be overrun with fools from the local area, but it wasn't too bad this day. Small compact site right up against the rocks which were good for some late-day exploring. Had eaten my dinner sandwich for lunch so was down to cashews and cookies and rum for dinner. Also, the campground host was an interesting dude. I saw him launching golfballs from his site into a canyon and he said how he took over this campground after the previous guy died in a flash flood. I guess he wasn't worried about hitting people in the canyon and said all the balls collected at the bottom for retrieval.
June 9: Final day and I was ready for a big greasy meal of anything. I got my stuff together and went on this small 1 mile or so hike into the canyon beyond my site and I must say, it was pretty cool. It narrowed to a point with a rope whereby you could have continued, but I declined, partially because I felt a bad dump coming on (and indeed it was a close call on my return.) I would definately check out this place again if I am in the area and continue a bit further with some water shoes to see what's out there. Here's a look at the rope looking back in the other direction. Nice early light. I was around 6:30. Some nice rock in the light on the trail on the way back. In the other direction, it's still unlit. Nice last shot in the area from the trail around the camp. I like the mixture of lights and textures and the clouds. Headed into I-15 and home. It was too bad it was so early because I could have really used a nice Vegas lunch buffet. As it was, I had a pretty nice Gyro at the Mad Greek in Baker around 10:30. Took a nice shot of this real sad apartment complex located right off 58 just after the town of Boron (Borax capital of the world) but it actually seemed abandoned except for one car in there and then I got scared someone was running a meth lab so I got out of there fast. Around Bakersfield, my car hit 111,111 miles which was exciting. If I have it until it hits 222,222 it means I was unemployed longer than anticipated. Nothing else exciting upon my return, other than the new experience of not having the dread of returning to a sad job the next day.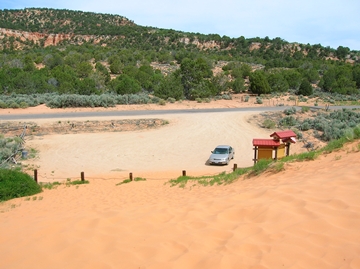 A look down at my car from atop a Coral Pink sand dune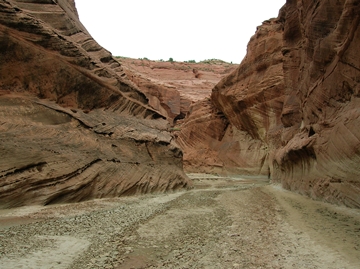 Hike down riverbed off the White House trailhead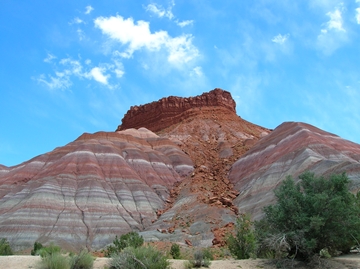 Imposing muti-colored rock structure at bottom of Paria Canyon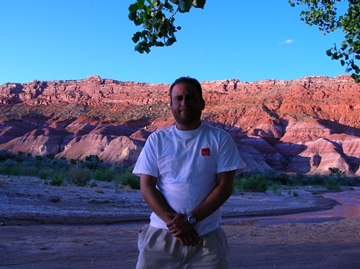 Me, by camp near day's end.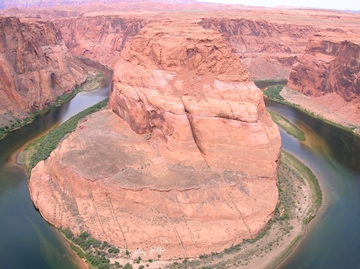 Colorado river overlook just after the dam. Very long way down.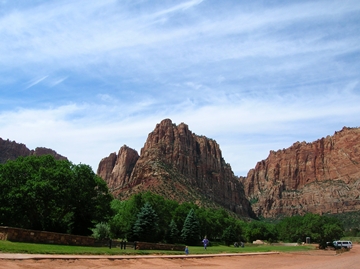 Nice park in Hildale with sister wives running after kids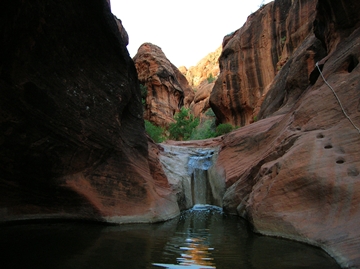 Nice official end of the canyon trail, though looks cool beyond