The Megatrip: Western National Parks Roadtrip, 5/16/04 to 5/31/04
Back to marcschoenfeld.com
General Stats:
Days on the road: 16
Camping: 6 nights, Motel: 5, Friends' place: 4
Number of times stayed in one place for more than 1 night: 1 (Zion, South Campground)
# of States driven through: 7 (CA, NV, UT, CO, NM, AZ, TX)
Miles hiked: 96
Miles driven (approx): 4100 (see route)
Miles driven on dirt roads: about 100
Number of cans of no-bean chili consumed: 6
Number of malted beverages drunk: 12 Natural Ice, 1 Utah-strength Tecate, 1 forty of Mickeys, 1 two-four of Schlitz Blue Bull, 3 other classy beers can't recall brands.
# of "Don't Pick up Hitchhikers; Prison Facilities Nearby" signs passed (approx): 20
# of signs with "Open Range" with a picture of a cow passed on highway (approx): 30
# of National Parks/Monuments visited (in order): 12 (Kings Canyon, Zion, Bryce, Grand Staircase Escalante(BLM), Capitol Reef, Natural Bridges, Canyonlands, White Sands, Carlsbad Caverns, Saguaro, Casa Grande Ruins, Organ Pipe Cactus)
# of BK stops: 5 (had a book of 2 for 1 coupons), consisting of 6 double cheeseburgers, 2 chicken sandwiches (was enough for 2 meals; were terrible), 2 breakfast sandwiches.
Weight lost on trip despite eating crap and in car for hours: 4 pounds (gained most back already)
Number of Gas Stops: 15 (1 with car wash)
Amount Spent on Gas: $322 (Here's the receipts)
Cheapest Gas: tie of $1.88 in Alamogordo and Albuquerque, NM
Highest Gas: $2.40 in LA.
Amount Spent on Motels: $126 including tax
Camp Site Costs: about $65
The Megatrip Credit Card Statement
Trip Log (Click sound icons for audio commentary; bonus points for naming songs playing in background when driving)
Day 1:
Left SF a little behind schedule, 7:15 AM. I had wanted to leave about 6AM because I saw there was so much cool stuff to do in Kings Canyon/Sequoia. However, I had a little hard time waking up early enough due to the fact that I had been at a night-time wedding the evening before and though I did taper off my drinking a bit and went to bed around 11, I still had a slight hangover in the morning. In addition, the final packing up of the car took a lot longer than I thought it would even with all my prep work. I was going to be gone for over 2 weeks and the amount of crap that needed to be loaded up was astounding. Here's a look at my pre-trip shopping. (Still, I would end up forgetting my deodorant). The other slight delay was due to the traffic surrounding the Bay to Breakers race which was starting at 8. But after getting through the wackos getting ready to race in tutus and centipede costumes (I passed this group of genies as well), it was smooth driving to the park.

Some of the roads were closed still from the off-season, which turned out to be good because I wouldn't have had time to do my hike I found out. I took 30 minutes to tour Grant's Grove of giant sequoias which was fine, but I had seen these things before and there were a lot of fools here so didn't want to spend more time. The road to the bottom of King's Canyon was awesome. You get to drive along the river

and some giant rock walls for a while when you reach the bottom of the windy and steep road. Along the road also was this cool picnic area with a nice waterfall.

I set up camp in the only campground open. There was hardly anyone even in that one and my camp had a nice little stream

running through it which made a peaceful sound. I then did the Mist Falls trail, about 9 miles because I went beyond the official end of the trail a bit to get different views. Nice shot of the mountains with a bit of snow seen still in the direction I was headed near the start.

It was pretty flat till the end when it started to get pretty exhausting (as my nasty sweat will show in the photo to follow).

It was a great falls because you could go out right to it on rocks and feel like you were in the falls.

In all, it was a nice warmup hike for the trip. On the trail coming back, I got my favorite shot of the park and the trip, and my current wallpaper, usurping Led Zeppelin which has been my previous choice for several years. I had a hour of daylight left so I stopped by Roaring River Falls which was a short 5 minute walk from the road and it was cool. Like a waterslide. Then to the camp for a little reading and the first of Hormel No-Bean Chili with 2 Natural Ices camp dinner that would be a recurring theme on this trip. Daily Stats: Drove 303 miles, hiked 9 miles.
Day 2: This had potential to be the toughest day of the trip. I was doing a 13 mile, 4000' elevation gain hike to Lookout Peak followed by a 400 mile drive to Vega$ for my layover. I got a pretty early start and was on the trail a little after 8.

It was a pleasant hike with a good amount of shade and changing scenery including being near a mini waterfall

for a time. The hike was a constant uphill, so it didn't seem that bad as it was never ultra-steep, but did wear on me a bit. Here's a shot somewhere in the middle of me.

Near the finish, the trail left the national park boundary and a sign read "trail not maintained beyond this point" so I got a little lost and I never really know if I actually made it to the great lookout point.

I don't think I did, but I was high enough and I wasn't in the mood to get lost. I had lunch and shot some pictures at the top.

It was cold up there at around 8k feet. There was snow still to be seen in patches. Saw this odd measuring thing

that I couldn't figure the purpose of but I wasn't going to jail disturbing it, that's for sure. Coming back down, was easier, but by that time, my feet were in pain so I wanted it to end badly when there was still an hour left to go. Still, got a couple nice different views of the little river near the end.

Reaching the car, I changed clothes and did a little feet and crevice washing with some wetnaps. There was practically no one at this park during my visit so I was pretty much free to do what I wanted on the side of the road in privacy. I did not see one person on my 13 mile hike. It was about 3 when I headed out and got to again enjoy the windy canyon drive in reverse. I stopped a couple times to take in the views for the last time. Then, the painful drive through the backroads of central valley farmlands, reaching the crazy truck traffic of 99, then on through Mojave (used first of 5 BK 2 for 1 coupons here) to Barstow and finally Vega$ where I stayed for $30 downtown at the Las Vegas Club, a real hole. Some thoughts on the end of the hike and drive. The place was so depressing, the small possibility I had left open for a little gambling was gone upon entering the place. My room was right next to some grease exhaust thing on the roof and they were cleaning it and it was shaking the room so I had to call the engineering guys to fix it. It wasn't a great night of sleep, but good enough and the shower (with classy liquid soap dispenser instead of bars) was the last I would have for 6 days. Daily Stats: Drove 450 miles, hiked 13 miles.
Day 3: Left early again, around 8 after a crappy breakfast in the Las Vegas Club restaurant. This hotel is so sad, I can't believe it's in business.

Headed North on 15 towards Salt Lake City. On the way, I passed Mesquite which I realize would have been a better place to stay for my stopover. I rolled into Zion around 11am (Really noon because the time changed, but I didn't know it). Contrary to Kings Canyon, this place was packed, even though it was a Tuesday before the summer. I would estimate that 50% of the people there were Europeans. I had barely even heard of the place myself, but it must have good word-of-mouth over there. It was awesome, though. I could see why it was so crowded. I snapped up one of the few remaining camping spots and signed up for 2 nights. This would be the only time on the trip I would not back packing up my stuff and moving on after one night. I realized I screwed up a bit because I had to then leave the park into the town right next door and pick up some sandwiches for today and tomorrow (turned out they were the best pre-maid sandwiches I've ever had), plus some ice. Then I had to wait in line again to get in. But there was a lot of daylight left still which is why the summer is good. You have to take the shuttle there, so I got of directly at the stop to do the Angel's Landing hike which I was a bit scared about since it consisted of chains for the last ½ mile due to hiking on some scary cliffs (notice specks of people in the picture). But up to that point, the hike went up these "Walter's Wiggles" some crazy switchbacks carved into the rocks that was an impressive engineering feat. It was fairly strenuous, but a nice hike with great views and interesting terrain throughout.. I reached a resting point before the chains began and decided to give it a try. There was about 5 switchbacks of chains and I must say that I was fairly nervous and shaking even going on these fairly tame parts because it was a bad drop over, but not a sheer cliff. After this initial part, I reached a sort of platform was an outstanding view and a lot of people resting. I then saw the final point of the hike and was wondering how one got there. Then I noticed the little specks of people that looks like they were hanging to the side of a cliff and that ended any chance of me attempting to finish. I just don't think I could have gone that long without cracking. I think if I hadn't seen the people on the trail, I might have tried it, but seeing them in these unnatural spots scared me. A lot of people, old and young, were doing it and they said it wasn't as bad as it looked, but it was over for me. I enjoyed the view up there and was told it wasn't that much better at the end, but I was still ashamed of myself slightly. I'd do it again if I went with someone else that shamed me into it, but I was by myself. Met some cool Germans who took a picture of me at the wimp-out spot. They were on a month-long trip and were heading to SF and they were asking me all about the city and saying how much they loved it. Made me realized how much tourists love SF, despite all the sleaze. After returning from the hike, continued on the shuttle and checked out Weeping Rock and all the other sites and viewpoints and hiked a couple miles to the start of the Narrows where people have to trudge through the freezing water to get to the skinny part of the canyons. Didn't look fun, but maybe with the right gear it's ok, which I will have when I return in September with a group doing a hike in there. Got back to camp, which was smack in the middle of the majesty of the park, and relaxed a bit and had the usual meal. No audio commentary worth sharing for today.
Day 4: It was nice not to have to pack the car up like I was going to do every other day. I had arranged a 9am shuttle to drop me off at the trailhead of the East Rim Trail near the east entrance to Zion. It wasn't too hot, but the sun was strong and I had my 100 oz water bladder filled to the brim which was good because I sucked it dry by the end. Several web sites proclaimed this hike one of the best in Utah. It was 14 miles with the optional detour I was taking so it had to be a one-way deal to get it all in one day. I realized the direction I went was the right one because after a slight amount of climbing at the beginning, it was flat or downhill the whole way except for the 2 mile very steep detour to Observation Point. It was an outstanding hike, few people and changing scenery all the time, most of the time, you were skirting huge canyons, scary stuff like Jolly Gulch which was signed and the first big drop on the trail. Here I am on the edge somewhere.

Though it was mainly downhill of a lot, it was still tough of the body. I was in serious pain when I finished, but views like this made it worth it. Here's a shot of a nice cone mountain and a V formation similar to my favorite Kings Canyon shot. The actual hike was 10 miles, but the must-do detour suggested by the website to Observation Point (I think this is a photo of it) made it another 4. It definitely was a must-do. Major switchbacks and sheer cliffs on the trail, though it really wasn't that scary because the trail was quite wide, though high winds made me nervous a couple times that my hat was going to carry me over the edge. Met some cool people on this hike and at the top, spent a good amount of time talking and admiring the views.

This point was actually higher than Angel's Landing and you looked down on it. I wish I had my binoculars to see the people on it. One thing cool about being that high was that I was able to see the greenery that resided on the tops of all these giant rocks. From below, you don't see that. Some cool sandstone stuff from some other direction. You can note how the weather rapidly changed with nice sun coming out resulting in some good light. Nice vertical shot of some cliff. Heading back down to complete the trail, I didn't realized how high I had started because it was seriously steep the rest of the way making me feel that I had cheated by going the direction I did, which included a 1900 ft ascent, but a 3290 ft descent. However, going the other way, would have been incredibly hard and I honestly don't think I could have done it and the hike descriptions don't even consider suggesting you go the other way. After Observation Point, I figured the good part was over, but I was wrong. The terrain on the final leg was awesome with some nice creases in the rocks with vegetation, cool slot canyons below me and another nice one. You ended up high above the Weeping Rock with nice views on the main canyon and Angel's Landing (I think) where there were major switchbacks to the bottom. My feet killed bad after reaching the pavement and I could not walk too well. I also smelled bad because I had forgotten my deodorant. I then had to ride a shuttle and stand because it was crowded and had to hold my arms tightly to my side to avoid stinking up the place, though I think I did disgust some people. Made it back to camp and washed my feet with some water and soap and did some pit cleaning with wetnaps and enjoyed relaxing a bit before my Hormel and Natural Ices.

Day 5: Headed out of Zion around 9 for my next stop, Bryce Canyon which wasn't too far away. I needed lunch meat, bread, ice and deodorant bad and luckily along the way, there was this independent grocery store of fairly large size in this town. Their selection and prices were good for middle of nowhere. The guy had a giant display of the Book of Mormon right at the front, but I wasn't buying. It reminded me that I was glad I had brought my own liquor with me on this trip. Anyway, it was a pleasant and scenic drive to Bryce. Unfortunately at Bryce, two things were going on: Construction on the road causing big backups of traffic and a controlled burn causing smoke and viewpoint closures. After setting up camp and having a quick sandwich and some chips, I headed out intending to see all the viewpoints then do this 8 mile hike. But the traffic and smoke changed my plan and I had to do the hike first, which turned out good anyway. Did this Fairyland Loop trail which went down into one of the canyons and you got to see up close the hoodoos. It was cool, but sunny so comfortable with shorts, though I saw a lot of people with long pants and I would later find out why. It sprinkled a bit near the end of the hike and I had to put on my jacket I brought. My feet were in serious pain at this point having hiked a lot several days in a row now. I had bad blisters all over the place. I could not bare to even look at my own feet there were so nasty. But this hike was worth the pain. Here's a cool arch from someone in the middle. It was nice to see the formations up close and it wasn't too taxing, though again, I was glad it was over. Some cool giant hoodoos. There was a nice little arch that was seen from afar near the finish. Final stretch had some good hoodoo chasms. Here's a another look with some background. And a nice Balance Rock on some great formations. Great final view of the Fairyland Loop.

There were some guys stranded because the bus service was canceled and they didn't know it, so I gave them a ride back the visitor's center. I have to say that Bryce was the worst run of the parks I think. They just seemed very disorganized and didn't say anything about the construction and fire when I went in. After dropping them off I figured out the deal with the construction and was able to drive all the way to the end and see all the viewpoints which was cool. I wasn't in the picture mood so didn't take much more. The highest point was so cold, I had to change into pants to get out of the car. All of them were great to see. Here's another nice thing sticking up. A couple had short walks, one where I got this nice horizon view. Good binocular usage. By the time I was at lower elevation again, I was hot in pants. Got back to camp and had a one of my Natural Ice's and chatted with some college chicks from Georgia on their summer road trip where I found out that at Georgia, they have to have a guard patrol this one bridge when it is below freezing to prevent kids from spraying water on it which then cancels classes as it's the only way into the school. Had my chili and second beer and sat out admiring the view of the sliver of moon and stars. Even though the smoke from the fire could be smelled, it didn't obscure the view. About 11, it got cold so decided to get to the tent. At about 2am, I woke up absolutely shivering. The temperature had somehow plummeted to 28 I would find out the next day. I had to go to the car and put on sweats, 3 pairs of socks and and extra jacket. I already had my ski hat on too. I was still cold. My tent with a hole in it and $15 sleeping bag rated to 45 degrees were not cutting it. I had no idea it would be this cold as I had checked the forecast before leaving SF and didn't see anything saying it would do that. I guess the forecast changed while I was internetless. But I survived and had some good hot chocolate in the morning before heading off to my next destination in the much warmer desert.

Day 6: After packing up at Bryce, headed down scenic byway 12 and some great views to Escalante which was were the BLM office was servicing the Grand Staircase Escaltante National Monument. I had never really visited BLM land, and was impressed with the guidance the office had on what I had wanted to do that day. BLM areas like this one are rugged and have minimal services and facilities so it's really like the old days and you get the primitive feel of exploring in the past century, though of course you still have a car and modern gear. It's nice because you don't run into the crowds because they can't get their postcards and hats as there are no gift shops to be found here. Nice article on the place. They had great info on these slot canyons I was headed to that day, Spooky and Peak-A-Boo Canyons. After filling the tank in the town, took a right onto Hole-in-the-rock Road, a "graded" dirt road (actually on the AAA map I had, but was unnamed) which I had to go 28 miles down to get to the spot. The quotes are needed because this road was bad news. It took me nearly 2 hours to go 28 miles because so much of the road was washboard that my car was in danger of losing pieces so I had to go slow. I cursed often and was scared I was going to get stranded and this was no place to get help. There were cows in the middle of the road I had to wait for. The scenery was desolate, but great, despite my agony of the drive. There definitely was a feeling of solitude being on this lonely road though the stress of the bumpy ride made me not appreciate it as much as I could have.

Fortunately, the pain was worth it because these slot canyons were awesome. There were actually a fair amount of people there, which was good because I would have been nervous being by myself. There was technical skill require for going up the first canyon, Peak-A-Boo. I had bad shoes on and since had to wade through some water at the start, kept slipping, so I had to use my arms a lot of shimmy up holes and bellyflop some inclines. It was fun though. Made you feel like a kid. Just challenging enough to make you wonder how you'd get though it, just scary enough to wonder what dangers lie ahead. I was sort of scared about snakes lying in the shadows to get out of the heat of the desert as a website had warned. I passed some people that said the other canyon, Spooky, was much narrower, which I couldn't believe. Nearing the top, it got a bit lighter. You can see how I had to jump down to get to the ground of this part. It was good I passed these people because I thought I had to go back down the way I came and then enter the second canyon from the bottom, but they said you could enter through the top. I exited the top and there was some cairns indicating the trail. I passed another group of people and they told me I was off course and heading back the way I came, so I joined them and proceeded to Spooky. This Spooky canyon was much more technical. I don't believe I could have made it through going in the other direction. Going down, gravity was an aid. There was so many tight spots and corkscrews where you have to twist your body to get through. I scratched up the face of my watch a bit. I didn't get any pictures because I was so excited to keep moving, I didn't want to pause, plus I don't think any photos could have captured the nooks and crannies. Many parts you had to suck in your gut to get through. It was definitely cool. There was a lot of places to break you leg I think if you mistepped, but it wasn't too bad. I was glad I had teamed up with these guys I met because they reported on what lied ahead. After reaching the bottom, did a short leisurely walk down this other flat narrow canyon that wasn't too exciting after the awesomeness of the slots, then retraced steps to the parking area. Then returned down the painful dirt road. I still appreciated the scenery a bit on my way out, though. I was so relieved when that dirt road was over and my car still functioned. Continued on to my next camping spot at Calf Creek, but it was full which was a bummer because there was a cool little hike there I wanted to do, but it was ok. I continued on and sort of changed my plans. I was going to the next day drive down this Burr Trail Road to Capital Reef, but after the dirt road driving, I wasn't in the mood for more. Past the Calf Creek area, I stopped for 3 nice shots which typified the scenery on this byway. Instead, I dove down the paved portion of Burr Trail Road from the town of Boulder and it was outstanding scenery. Incredible. There was a cool campground down there, but it just had filled up also. The sun was waning and I reached the end of the pavement and retraced back to the main road. I did some more scenic byway driving and finally found this national forest campground in some mountains above a lake about 30 miles from the Capitol Reef entrance. It wasn't great, but it was ok and made for a nice photo. There were a lot of sad people there including this chick that was too lazy to walk to the bathroom to piss that I saw squatting from my site. The elevation wasn't too high so it wasn't that cold. I was getting tired of the Hormel by now. Miles Driven: 199, 56 on dirt.

Day 7: Got out of that sad campground and drove to Capitol Reef. Stopped of at all the roadside sites. I drove into Capitol Gorge, which was a good dirt road and was an awesome drive. At the end, hiked about a 4 miles RT down in the gorge which use to be a road for settlers to these "tanks" which was just big holes in the rocks that collected water. It was sort of cool. On way out of gorge, got some nice mountains with threatening clouds and a wall with names of settlers etched in from 1911. Did another little dirt trail driving, saw what I think is the Golden Throne in this shot, then retraced and exited the scenic drive to the main road. Somewhere, this cool monster of a wall appeared. Stopped off at some petroglyphs and did a 4 mile hike to the Hickman Bridge which wasn't bad, but not photo-worthy. I wasn't really in the mood for major hiking today. Got back in the car and headed down the road some more to the turnoff of Noton-Bullfrog Road, paved for a couple miles, then dirt. But this was a much better dirt road. Drove about 16 miles or so in the dirt past some more cows to a primitive campsite with 5 spots and a pit toilet. Great spot for camping. No RVs, peaceful surroundings. The Waterpoket Fold visible and these towering red rocks in the distance. I think I was too worn out by now because I have no pictures and I recall it being good. Had some beers with this obscure music guy from Salt Lake who told me he was relocating to Austin to be with the mother of his 2-year-old child. He wasn't sure he liked her enough to marry her. He was cool. I just ordered some Driveby Truckers CD on his recommendation for a good southern rock album. This was my last night of camping and it was a nice end to it. I was happy to consume the last can of Hormel I would be eating on this trip.

Day 8: Wasn't really sure what I was doing this day for my hike, but since there was a trail right in the camp area titled "Red Canyon" I figured it was as good as any as it looked like it went to a cool area. I have not been able to find any information on this hike, so it must be unmaintained. Again, I took no camera, because I didn't feel like dealing with it. I did take binoculars. The trail went for about 25 minutes before dumping me into a wash, which was were it went for the remainder. It was pretty cool. Not too taxing of a hike since it was almost all flat. A little hard to figure out where the trail went and I wasn't sure where the end was supposed to be, but when I saw I was going to have to rock climb to go any further, I figured that was the end. You got a nice up close view of the red rocks and got to see a little arch and some crazy rock along the way. It was about a 6 mile RT jaunt. Got back to the camp, packed up, then drove some more down the scenic byway into the Glen Canyon Rec Area, a Godforsaken place that I can't imagine anyone wanting to do stuff in. Nice to drive through, though. Stopped off at some viewpoints and did a short hike to the end of a cliff for some pictures. Continued on to Natural Bridges National Monument.

It's only worth going if it's on your route, but it was cool. Hiked down to this big bridge that was so high, when I go to the bottom, I asked a guy where it was and he pointed straight up. I was standing under it and had lost my senses while concentrating on negotiating the trail. The trail consisted of some switchbacks, ladders, and steps. It was a cool trail. Short by physically taxing. Went back up to the road and drove to the next viewpoint of some Indian dwellings I saw from my binoculars and wasn't too sad I didn't walk down to it. Next arch wasn't that impressive so didn't hike to. Last one, was a short hike, so went to it and was nice. Dumped some trash, took a crap, and washed up at the visitors center, then continued on to Monticello where I stayed at the Triangle H motel for $32 plus tax. Took a very long shower as it was my first in 6 days. Spent about 10 minutes in there just on my feet and had a separate wash cloth just for that as well. It was Sunday and in Mormon country, that spells trouble for finding places open, but luckily there was a big Hispanic community here and there was this MD Ranchhouse open where I got a Rib Eye, biscuit, beans, fries, salad, and lemonade which was ok, but given my eating of crap during camping, was like heaven. Had a couple puddings back in the motel room and watched some Simpsons, read, and had a little vodka. I had realized that I'd been driving a couple 1000 miles with an open bottle of vodka in buried under crap my back seat which I think was not smart. I snuck the bottle into my room like a teenager because it was Utah and I wasn't sure whether they lynched for that sort of thing. There was some water pipe problem that cause loud screeching occasionally which pissed me off in this motel room. I complained, but they did nothing. I found if I ran the water, it stopped, but then it started again. Bastards. Still, it was nice to be in a bed and be clean before my next activity the next day which would prove tough. It was my first TV for 6 days and I found out some Iraqi official had been assassinated and that we bombed some Iraqi wedding by accident. I decided it was best to return to isolation and stopped watching the news. Mileage: 216

Day 9: Started off with a big breakfast early because I wasn't really bringing any lunch with me other than snacks and I had a big hike scheduled. This breakfast may have been a mistake as will later be detailed. Headed to Canyonlands Needles region which I had been to before, but was awesome and had wanted to see more of. The 30 mile drive to park I had done before and it was scenic and nice to see a second time, but I wasn't in awe like the first time. Started off with a warmup to this viewpoint I had liked last time I was there. This was a mistake as it was time consuming and not that great. I had changed my plans slightly because the one of the rangers in the visitors center suggested the Chesler Park/Joint Trail Loop and it was sort of in a different part of the park than I was in last time. To get to this trail, you have to driving into this Elephant Hill down a 5 mile or so narrow dirt road with blind curves. Luckily no one was ever coming the other way both in and out for me, so that avoided any close calls. The hike I was doing was 11 miles and not too much elevation gain but what gain there was was steep. As a whole, this hike was a lot tougher that I thought it would be; a lot harder than the 13 mile Kings Canyon one, but it might have been because of the wear on my body at this point versus being sort of fresh earlier in the trip. It was pretty warm and most of the trail was unshaded. But the hard part of the trail was that most of it was tough rocky terrain. It was tough on the body, especially the feet. My breakfast got the better of me and I had to take a crap off side of the trail which was disgusting. I had to use some of my map for TP. I was a bit uncomfortable the rest of the way, which I had about 5 miles to go after that incident. But despite the rough hike, it was awesome. Great views, cool slot canyons, a little peaceful flat part through this Chesler Park meadowy area with a lot of birds and butterflies, some fun technical climbs. A lot of variety. The second slot canyon was really long and cool, though not technical like the Spooky and Peakaboo were in the Staircase BLM. The trail was really hard to follow, and you absolutely had to follow the cairns and many times, I couldn't believe the route was telling me to go a certain way. I think this photo was one of those times because I now have no idea what it is of, but it looks like something crazy. Here's a nice formation I call the Giant Ass, appropriately after my nasty trail crap. This was my last picture for the hike as I wanted to get done as fast as possible. At the start, I blew past a couple groups of French which proves the 37.5 hour work week makes them soft. At the end, though, I was fading. Some Swiss couple was stopped and deciding what to do, I past them, then they turned around my way and they passed me, though I was going as fast as I could. They had only gone a couple miles, so weren't as tired, but I still was mad they passed me. Then at the end in the parking lot, they joked about how they didn't see any Americans on the trails, only at the drive by spots implying laziness. I subtly pointed out that the reason may have been the fact that Americans don't get the entire summer off like Euros do. But they were nice, so I wasn't too upset with them. I had ice cold soda waiting for me in the car as I'd filled up the chest with ice from the motel. This was a blessing. I downed 2 cans of Cherry Coke in short time. I sat on a paper bag so as not to nasty up my car from my nastiness. I cleaned up a bit at the visitors center, as usual, and they had great soap.

Changed clothes, and headed out around 5 to my next stop, Albuquerque. Stopped on the way at BK again for some more crap food, but at $2, it was a good 1000 calorie meal. Drove through a lot of sadness, especially the Northern Navajo Nation. The shanties of the north aren't as bad as the Arizona part of the Nation, though. Still, saw a lot of bad news, including a lot of hitchhikers. Finally, hit the interstate around 10pm and it was the first multilane highway since I had turned off 15 at Zion. That was nice. Rolled into Albuquerque around 11:30 and got lost a bit because went to the wrong Motel 6. That town looks bad. Some sleazy white trash chick in a truck was pissed off for some reason and heard her on the phone say "I ain't drunk or high right now" so I don't know what her deal was. Then while unloading my car, I realized I had left my hotel room door ajar and I was scared the chick had snuck in so I searched the room to make sure she wasn't hiding somewhere. Other than that, stay at the motel was uneventful. Had some vodka, shower, bed. The only redeeming quality I could see of this town was an abundance of cheap motels because there were tons of places with $30 rooms. I will also note the showers in this Motel 6 were totally modular. You could tell they just bought a couple hundred showers and installed them in every bathroom and then just hooked up the water. Tacky, but effectively cheap. Mileage: 455

Day 10: Today was going to be the easiest day of the trip so far. Basically it was all driving, about 400 miles on deserted roads with a brief stop at White Sands National Monument and an unplanned stop at some space history museum in Alamogordo this town near White Sands that had major fast food (Got BK here). To get there, I had to drive through some sad desolate landscape, straddling for a lot of the time the White Sands Missile Testing Area. I read that sometimes, they closed the monument during missile tests, but luckily this wasn't the case during my visit. White Sands is pretty cool; giant dunes of gypsum sort of in the middle of nowhere. I wouldn't go out of my way too much to go there, but it definitely is worth a stop if you are anywhere in the vicinity and have some spare time. I hiked out a couple miles on one of these dune trails then did some boardwalk interpretive trail, then drove around the dune drive, then left. It was cloudy, but still damn hot, though I was wearing an all black Mountain Dew T-Shirt which didn't help. I saw in my AAA book about this space history museum which also housed the international astronaut hall of fame. I went, but wasn't willing to pay anything so just checked out some cool old space and military testing devices on display outside. Then, I left and continued on to my final destination of the day, Carlsbad, New Mexico.

On the way, I paid $5 for a car wash because I couldn't see out of my windows after driving through so much dirt. There was some ok scenery on the final part of the drive as you drive through some mountains to get from Alamogordo to Carlsbad. I pulled into the Motel 6 and the room was adequate, but it smelled like sewage outside. Either it went away, or I got used to it because I didn't notice it later. I was paying $27 so I wasn't expecting much. There was a hockey game on, A's/Boston, and a Walmart for resupplying, so I was in good shape. No pictures today. Had the second BK chicken sandwich I got during my lunch. The first wasn't good then, and the second was worse cold.
Day 11: This was going to be a rough day. Carlsbad Caverns 8-4, then drive to Tuscon. I originally was going to stop earlier on 40, but with the time change heading into Arizona, I figured I'd take advantage of it by going farther. Anyway, the Caverns were amazing. I would make a trip out just for them. You can fly into El Paso then rent a car. Motels are cheap. At the caverns, I had booked 2 guided tours, Lower Cave and King's Palace, and also did 2 self-tours and it was tight. I couldn't rent the audio guide for the self tour because I didn't have time to linger at each spot, but I sort of wish I could have since I had some interesting info in it. Some people let me listen to one of the numbers and it was good stuff about this guy that used helium balloons to float a cord to the ceiling area in the Big Room in order to climb 255' into the area, later named "Spirit World." But I still was able to see the entire self tour, and squeeze in my sandwich between the tours. They actually have a cafeteria down in the cave which was cool. Great formations and just really captivating. No pictures because I wanted to just enjoy the cave and figured it's well-documented on the web. Headed to Arizona after and stopped at BK on the way. Passed through a bit of Texas and El Paso was a real hole. You could see some serious trouble overlooking the border into Mexico and I was at first shocked at the shantiness, then realized it was Mexico I was seeing. Highlight of TX was sign upon entering stating "Drive Nicely. The Texas Way." TX had a good amount of the hitchhiker signs also. Reaching Tucson, I ended up staying at this flea bag motel, Traveler's Inn, that was $27 and right on the side of the freeway. I noticed a sign saying "no refunds after 20 minutes" and I had a bad feeling. The room was bad news. Dried blood on blanket, holes in curtains and shower curtain, dead bolt didn't work, smelled bad. I was so tired after being in a cave 7 hours, then driving 7 hours, I wasn't in the mood to find another place. I carefully inspected anything I might touch, brushed a few hairs that weren't mine off the sheets and went to bed.

(includes a couple day 12 comments; ran out of space, so this is last of the audio)
Day 12: I was ready to get out of this hole early and did so. This day turned out to be the worst, though the end was good. I didn't know that Saguaro National Park was so pathetic. I would not recommend anyone ever going even if it's on the way. The first section I went to in the east was adjacent to a housing development and was worth a 10 minutes scenic drive. I would be ashamed to be a ranger at this place. Still, there were a couple nice Saguaro to see and a bit of desert bird action. Then I went to the other section and it was even sadder. Did a short dirt drive there checking out some cacti and then did a 6 mile hike, that was sad, but still sort of nice as it was a mild desert day and the top had a good breeze. It just wasn't worth wasting a day for this place. After my hike in the west section, I stopped for gas and saw his guy selling Sno-Cones out of his VW Van which was the highlight of the day. Some skanky chicks went and bought some from him, I think to tease him because he was checking them out. After this, it was off to Surprise! (town outside of Phoenix) to visit my friend Mike. But since the Saguaro Park was so sad, I was going to get there before he was off work. Luckily, there was a sign for "Casa Grande Ruins" on the road and I took the exit and drove down some small highway a while to see some Indian pueblo remains or something from a couple hundred years ago. Not worth going out of the way for, unless you have time to kill. Everyone at this place was in this boat because no one knew what was there, it was just everyone saw the sign and had some time to kill before heading wherever it was they were going. Spent about an hour there, then headed back to the interstate. Still got to Surprise! early, so found the public library and the nice librarian gave me her card to surf the net, which I hadn't in 12 days. I was starved for net. There was so much I wanted to do, that I froze. I surfed for about and hour, checking e-mail, reading news, finding out about the latest SFPD scandal with the cops in starring in pornos, then went to my friend's house where I waited for about 30 minutes in the car reading. Had a good time visiting with him and his wife and had excellent accommodations, especially after camping and flea bag motels for 12 days. Also had some good pasta and meat sauce. They had some cool cats too.
Day 13: Got up 6am to take friend and wife to airport for a wedding. It was ok since I wanted an early start anyway. They hooked me up with some leftover chimichangas and pork loins that would come in handy for me later in the day and days ahead. After the airport, my next stop was Organ Pipe Cactus National Monument. Had never heard of the place, but saw it on the map while planning the trip and it was intriguing so had to check out. The place borders Mexico. There was a ton of people heading to Mexico for the long weekend. Got gas in Gila Bend, AZ, which I noticed the other day had the highest temperature in the country of 109. Thankfully, it was only around 90 when I was there. Organ Pipe is definitely cool. Way better than Saguaro for desert beauty. The organ pipe cactus itself is awesome, but all the scenery and the desolation together make this a peaceful and nice place to visit. I did the 21 mile dirt drive and got this self tour book that was interesting. Then did this hike that was 6 miles I think, but fairly steep which was really good. Some impressive rock. No one on the trail so I could hike with my shirt off without shame, though fortunately for viewers of this site, still had it on for this shot of me. Here's another shot of the crazy cactus that looks like it's going to grab you. Going up, the trail meandered through some big walls that afforded nice views. Enjoyed the chimichangas on the trail and scarfed down a nice big chunk of pork loin for lunch in the car with a cold soda. Took a nice crap and washed up in the visitors center, then proceeded to San Diego stop number 1, my friend Scott's house in Clairemont. But first, I was stopped at the Border Patrol checkpoint and had my trunk search. I think the guy got upset when I didn't pop the trunk fast, but I had disabled the popping mechanism for security (in case someone broke into my car) so had to get out with my spare key and open it. He rifled around in there and gave a curious look to my voice recorder and bottle of cheap vodka and then let me go. Arriving at SD, I was so worn out from waking up early, hiking in heat, and major driving, plus the accumulation of being on the road so long, that I downed the 40 of Mickey's Scott had bought in record time, possibly 20 minutes. We chilled some and then the 24 of Schlitz went down fast. Then onto the Vodka and that was where my mistake was made. I must have totally lost my senses from the madness of the long day and went a bit too crazy and fouled his side yard a bit. The neighborhood isn't the classiest, but I still feel bad for anyone that had to hear me out there.
Day 14: Didn't feel too bad after my overindulgence and sleeping on the floor. Took a quick shower and left around 10 for my friend Tony's place in NE San Diego. We hung out at his condo for a while, then I was starving and around 11:30, we headed to Todai for all you can eat sushi and it was much needed as my hangover demanded food in large amounts, but not heavy food and a sushi gorge fit the bill. Absolutely delectable and the top meal of the trip. Headed back to rest at his place a bit, watched some Trading Places ("It was the Dukes! It was the Dukes!"), then went for an OK hike up some mountain somewhere not far from his place that wasn't too bad, but still was a good workout. Had a nice cherry Slurpee after and headed to REI for their sale, where I again lost my senses and bought $250 worth of stuff including this awesome jacket on sale that's like a scuba suit by Mountain Hardware and a fleece and some other stuff. I think I was going slightly insane from this trip. Headed back to his place, hung out some more, then finished up the night with an 11pm Miramar Robertos run where I made easy work of my Carne Asada Nachos. I was happy that they didn't make me burp nasty all night either like usual. This was a nice finish to the day. Slept on "The U" in Tony's extra room, a love seat we had in college that one of our big roommates sat on so much watching TV that the cushion became a U. Tony's parents took the thing to Arizona where they retired to, reupholstered it and gave it back to him a couple years later. So there was a lot of history I was sleeping on. There was a nice bar jabbing me in the back, but it was still better than sleeping on the floor. Oh, I also got to do laundry at Tony's which was great because my stuff was NASTY and it was stinking up my car. I also was out of socks by that time.
Day 15. It was time to head off to LA to visit my friend Randy in Brentwood. But first, enjoyed a nice swim at Tony's pool in his complex. Even with no goggles, it was ok because the water was not too chlorinated. It was a luxury to have a pool to just wake up to that I would like to have, but would never find anywhere in the Bay Area. Hit a bit of the spa also. Rolled into LA around 1pm. Checked out his place, then walked to some burger place that was not bad. Weather was perfect. Then went on a driving tour of the LA's nice spots. Wanted to see the 'hood, but he didn't want to. Checked out Malibu, Sunset Strip and Griffith Park among other places, where we did a hike up to some high point were you could see the smog nicely and also a giant Ipod billboard 10 miles away. Oh, and I saw a first: A billboard for a porno starring Jenna Jameson on Sunset Blvd. She was on top of some guy virtually naked which is how it stood out for me and as the article states, only the guy's nose which blocks her nipple made it classy enough for LA to put up. It was a relaxing day just sitting in the car, though the hike made me sweat a good amount, even though short. Headed back for some more touring, then made it home, watched Spinal Tap, ordered a pizza that was pretty good, and I was exhausted and went to sleep.
Day 16: Final day, hooked up with another old friend and we 3 went looking for this hike the guy remembered being cool. He couldn't find it, but I still enjoyed seeing the Santa Monica Mountains and driving along the PCH. We finally ended up doing a 2 hour hike in some sad state park, but the hike was ok, just too many fools. We hiked to some MASH filming site with burned out jeeps. Headed back to this third guy's apt. for some beers and I got to see the first period of hockey playoffs on his giant TV. Then went back to Randy's showered up, had a Cactus Cooler (not available in N. Cal; I brought home 2 12-packs) and my second left over loin from Phoenix. Then started the mad drive back to SF. Traffic moved about 80 for most of the way, but it was stressful because it was heavy and lots of trucks. Got back to apartment around midnight, unloaded all valuables out of the car, luckily found a spot quickly, and was asleep by 1, ready for a little relaxation sitting in front of a desk all day back at work.
Summary: In all, a great trip. Not relaxing, but I didn't need a relaxing trip. I didn't mind all the driving because I never felt rushed since the trip was so long and I started each day pretty early so I rarely was driving late at night. Fairly inexpensive for a 2 week vacation. I learned that National Park visitors centers are key places to crap and wash up when on the road because they are clean usually. Best park bathroom was at Organ Pipe. I went in there and not one toilet had been used, or they had just cleaned it up. Great soap also. Only negative of the trip was the Saguaro portion. Since I wanted to visit Mike in Phoenix, I really couldn't have done much else with that day anyway, but I could have at least stayed in a better place than the sty in Tucson. I also learned that if you hike everyday, you can eat a lot of crap and still lose weight. This will be the new fad diet I will be introducing on Oprah as soon as my patent is approved. The trip was physically taxing, but also had some nice relaxing moments, incredible solitude in great scenery, seeing some good friends, and best of all, not thinking about the real world for a long time. I recommend everyone take a week off and do the southern Utah circuit and maybe go the reverse direction and end up in Vegas for a nice buffet and gambling to finish it off. And add in some Grand Canyon and maybe Death Valley if you have time. There just is so much cool stuff in that portion of the country, that it really is worth taking a good chunk of vacation to see it all. Here's a look at my post-trip shopping. I had no food in my house when I got back. The mess after unloading all the crap in my car; it took me a week to get around to cleaning it up. While I was at it, I organized my place a bit.

Here's my route with notations. Use a photo editor to view if you browser tries to shrink it because you need 100% to see it (or uncheck "enable automatic image resizing" in IE Advanced Options). The numbers indicate the night of the trip where I slept. Refer to trip log for details of what went on along the route:
Back to marcschoenfeld.com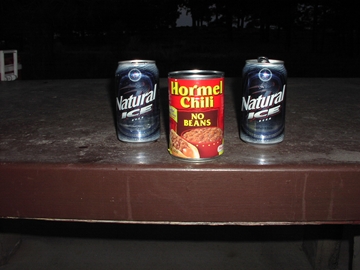 Camp Meal, 6 days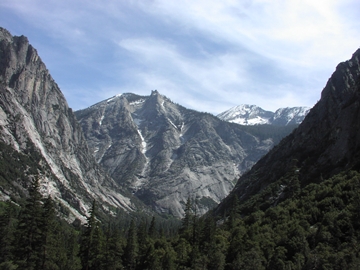 Kings Canyon as viewed from the Mist Falls Trail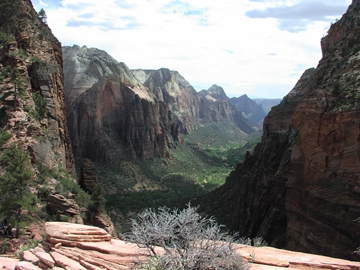 Zion valley as viewed from Angel's Landing Trail

East Rim Trail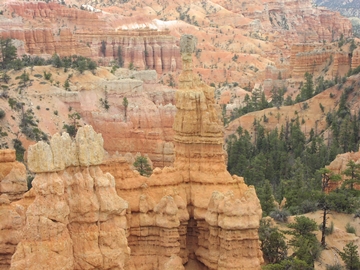 Some cool balanced rock on Fairyland Loop Trail at Bryce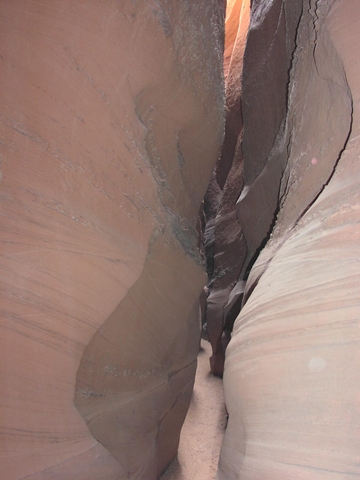 Narrow goings in Spooky Canyon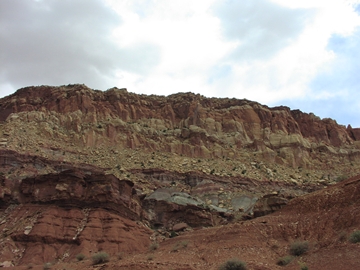 Golden Throne at Captol Reef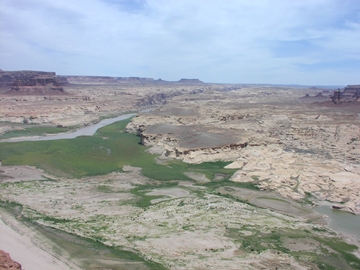 Glen Canyon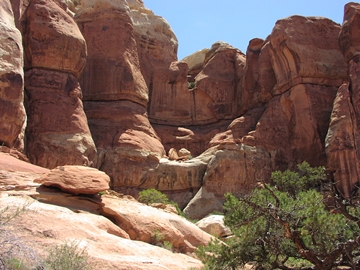 Nice rocks along Canyonlands trail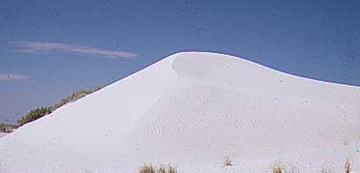 White Sands National Monument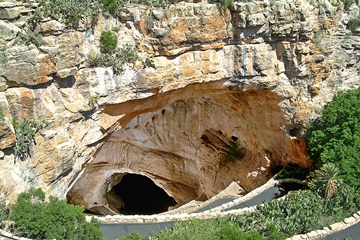 Carlsbad Caverns Natural Entrance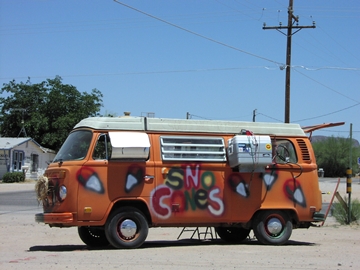 Sad way to make a living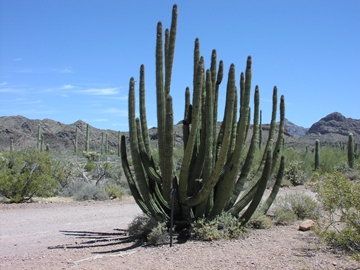 Organ Pipe Cactus